Business Edexcel GCSE
£199.00 Single payment + Annual renewal
A complete Business GCSE teaching package
Complete set of 9 teaching units. Our resources apply a highly visual and contextual approach to lessons including the practical application of mathematics in accordance with the specification.
Provide a confident, consistent and thorough approach to delivering the curriculum for all teachers in your department.
Subscription package
This curriculum package of 11 GCSE AQA Design and Technology teaching units is developed to deliver the subject through contextual and visually engaging examples. The package include all six specialist units.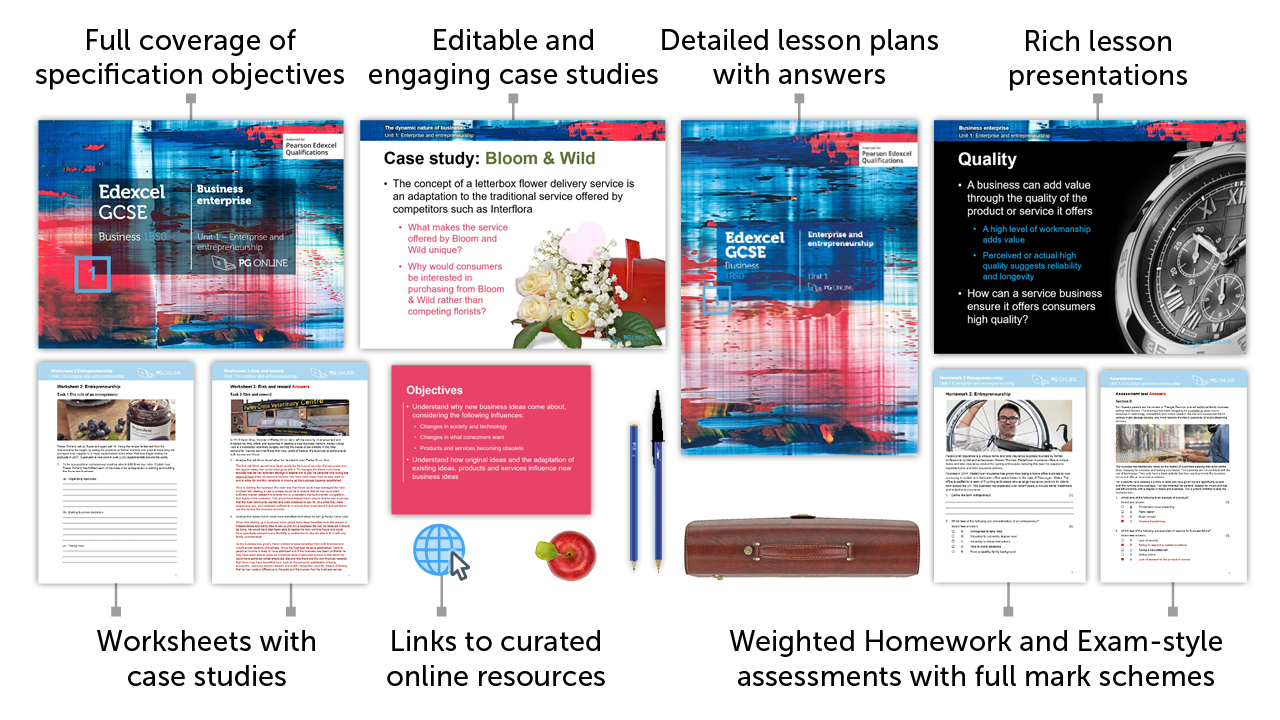 What's included in the complete series?
Tailored to the Edexcel 1BS0 specification with PowerPoints, lesson plans worksheets and homework questions for every lesson
End-of-unit, exam-style assessment tests with answers
Other material and links to online resources
Contextualised learning and contemporary case studies
Implement a curriculum with a consistency of excellence across a department
Ideal support for new and non-specialist teachers
100-day money back guarantee
This subscription package includes the following units:
Unit 1: Enterprise and entrepreneurship

1BS0 Theme 1: Investigating small business

Unit 2: Spotting a business opportunity

1BS0 Theme 1: Investigating small business

Unit 3: Putting a business idea into practice

1BS0 Theme 1

Unit 4: Making a business effective

1BS0 Theme 1: Investigating small business

Unit 5: Understanding external influences on business

1BS0 Theme 1

Unit 6: Growing a business

1BS0 Theme 2: Building a business

Unit 7: Making marketing decisions

1BS0 Theme 2: Building a business

Unit 8: Making operational and financial decisions

1BS0 Theme 2: Building a business

Unit 9: Making human resource decisions

1BS0 Theme 2: Building a business