=
OCR GCSE (9-1) Computer Science
Available in printed paperback format, or as a digital subscription edition
The aim of this book is to provide an accessible text for students, covering each of the elements in the OCR GCSE (9-1) Computer Science specification J276. It will be invaluable both as a course text and in revision for students nearing the end of the course. It is divided into eight sections, each broken down into manageable chapters of roughly one lesson. Sections 5 and 6 of the textbook cover algorithms and programming concepts with a theoretical approach to provide students with experience of writing, tracing and debugging pseudocode solutions without the aid of a computer. These sections would complement practical programming experience.
Each of the eight sections cover one of the major topics in this course, and each subtopic contains sample examination questions from past papers, which can be set as homework.
Solutions to all questions and exercises are provided in a free teacher pack available on our website.
To accompany this textbook, PG Online also publishes a series of six downloadable teaching units. Each topic in a unit consists of a PowerPoint presentation, teacher's notes, worksheets, homework sheets and a final assessment test with practice questions. Each topic within a unit is expected to be taught over several lessons in a week. Units are sold as a lifetime site licence and may be loaded onto the school's private network or VLE.
This book has been reprinted in August 2016. An single-page addendum to the first print is available here.
What people say...
"

"

Wow! This is certainly the most comprehensive and useful book out there for A Level OCR Computing. I will be purchasing a class set for year 12 and 13.

Craig Sargent. Head of Computer Science, Archway School
"

"

The inspection copy of your book is excellent, really well done. I'll be pushing for some of your A-Level and KS3 resources this year, they are brilliant! This is just the sort of stuff teachers need.

Daniel Lee. Head of Computing, The National Academy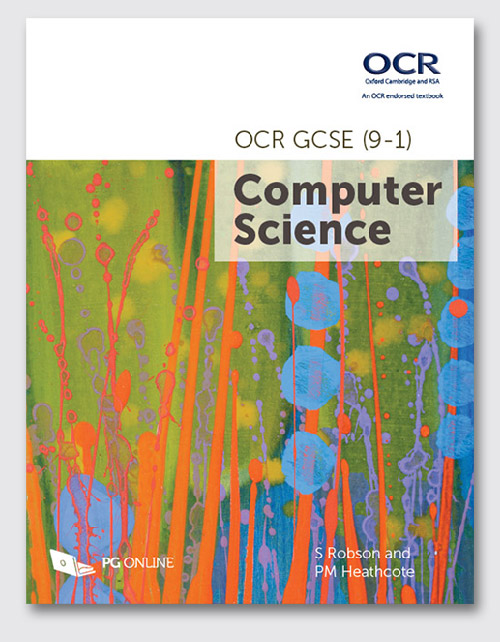 Contents:

Section 1: Systems architecture, memory and storage
Section 2: Wired and wireless networks
Section 3: Systems software and security
Section 4: Ethical, legal, cultural and environmental concerns
Section 5: Algorithms
Section 6: Programming
Section 7: Logic and languages
Section 8: Data representation

How to order

1. Add individual units to a draft order or download a blank order form below to complete manually
2. Using a draft order you can either:

a) Create a PDF
(to fax or email at a later date)

b) Save your order online
(registration or log in required)

c) Email us your complete order
(registration or log in required)

Download blank order form

Pricing and Discounts

Lifetime site licence for:
1 KS3 unit £120 + VAT
GCSE & IGCSE units are individually priced
A Level units are individually priced
Discount for 2-5 units 10%
Discount for 6-11 units 15%
Discount for 12 or more units 20%
There are no annual renewal fees.