1
Inside the Unit...

Areas Covered
Topic 1 Business enterprise
Topic 2 Entrepreneurship
Topic 3 Risk and reward
Topic 4 The dynamic nature of business
Assessment
There are 4 worksheets, 4 homework tasks, and an examination-style assessment test, each with answers included in this unit.
This is a free unit (Full price £90)
Summary - Out now
This free unit covers Topic 1.1 of the Edexcel specification and begins by introducing students to the purpose of business activity, and the concept of enterprise and entrepreneurship. The relationship between risk and reward is considered and the impact of managing these variables on business activity is analysed. The unit explores the reasons why new business ideas come about and how new ideas are developed. The unit concludes with a topic focussed on the dynamic nature of the business environment.
A range of contemporary case study examples are used throughout the unit to interest and engage students, reinforce theoretical concepts, and make the learning relevant. In the final topic students sit an assessment test comprising questions similar to those found on the GCSE exam paper.
What's included in the toolkit?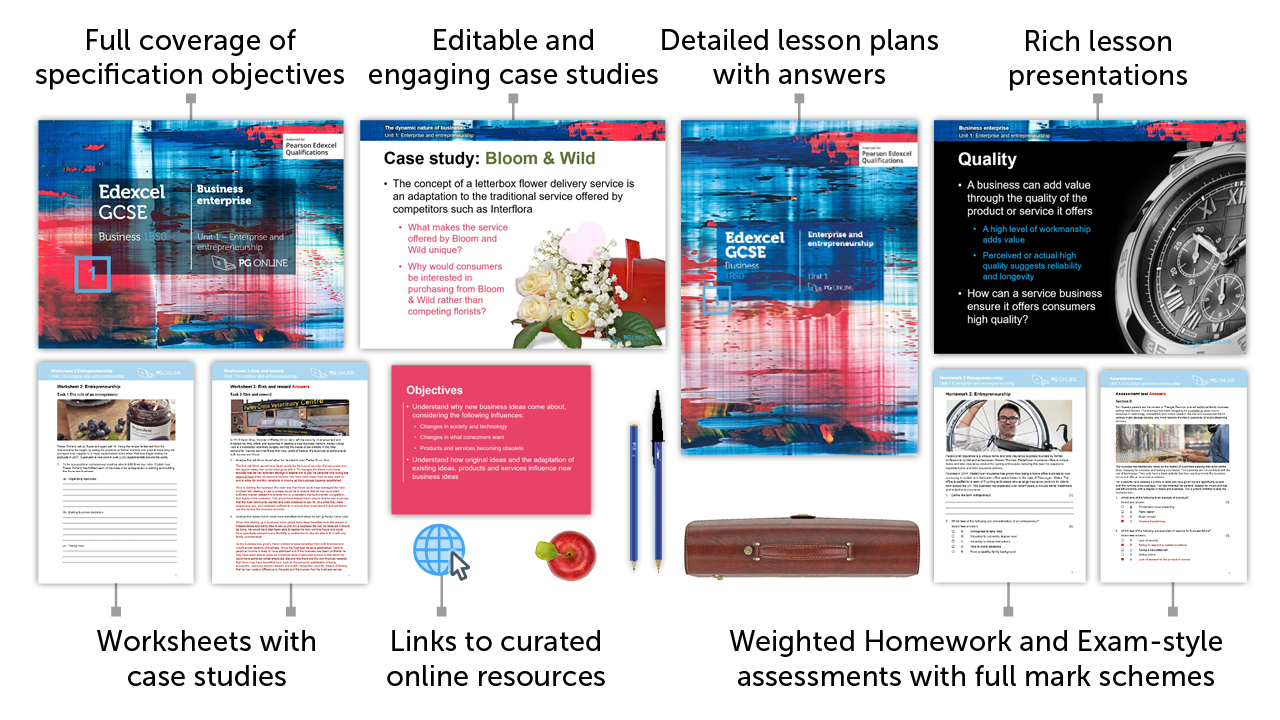 The GCSE units have been written to satisfy the specification for the Edexcel 1BS0 Business GCSE. Each unit contains:
PowerPoint slides for each topic
Detailed lesson plans
Learning objectives and outcomes
Worksheets and homework activities with answers
End-of-unit, exam-style assessment test with answers
Other material and links to online resources
What people say...
"

"

Thank you for all your help. I have nothing but good things to say about PG Online. It's been a massive time saver.

Sam Moses. Teacher of Computing, Tibshelf Community School
"

"

I have purchased some of your units and we love them.

Chris Myhill. Curriculum Leader for ICT and Computing, Bradfield School
Inside the Unit...

Areas Covered

Topic 1 Business enterprise
Topic 2 Entrepreneurship
Topic 3 Risk and reward
Topic 4 The dynamic nature of business
Assessment

There are 4 worksheets, 4 homework tasks, and an examination-style assessment test, each with answers included in this unit.

How to order

1. Add individual units to a draft order or download a blank order form below to complete manually

2. Using a draft order you can either:

Save your order online
(registration or log in required)
Email us your complete order
(registration or log in required)
Create a PDF
(to fax or email at a later date)

Download blank order form

Pricing and Discounts

Each unit is individually priced for LIFE. Please view each unit for detail. 

Discounts are cumulative based on the total of units licenced to your department.

All prices subject to further discounts and VAT.

There are no annual renewal fees.

| | |
| --- | --- |
| 2-5 units | 10% discount |
| 6+ units | 15% discount |