PG Resource Marques
The PG Resource Marques have been designed to support schools using PG Online teaching materials at either KS3, KS4 or KS5.
PG Online teaching units are proven to save an average of 3.2 hours per teacher, per week and schools using PG Online materials in Computer Science have shown a significant increase in grades at both GCSE and A Level.
An increasing number of schools are referring to their use of PG Online materials in their prospectuses and job advertisements. A Resource Marque helps to attract applicants for teaching posts and informs parents and stakeholders of a standard in pre-planned classroom materials and a consistency of teaching across a department.
Schools using PG Online materials may use and display the corresponding Resource Marque for the materials they use. Schools using materials from all three Key Stages, for example, may use all three marques.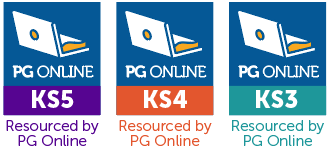 Guidance on download and usage
Download any paid unit to receive the appropriate Resource Marque and accompanying pack. See our Resource Marque guide for examples and instruction for usage. Download the guide today.