Our Artists
We would like to thank our artists for their kind permission to reproduce their work in our units, books and on our website.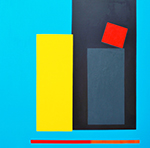 Painting full time from his Cornwall studio, Chris pursues his art with an absolute passion for bold and experimental use of colour. With colour as the key factor, Chris's work is informed as much by basic design ideas about colour relationships as it is influenced by the mystical landscape, the reflective sea and the vibration of the pure light in Cornwall, the land that he grew up in. He has exhibited in the USA, across Europe and the UK, with work in museums and private collections worldwide.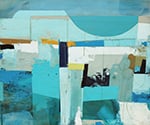 Andrew studied Graphic Design at Sheffield and later Fine Art at Bradford, using both these areas of discipline in his work to explore and simplify the visual content. His paintings attempt to capture a sense of place, being developed from sketched ideas and references from memory. His paintings undergo many additions, building up layers with scraping, scratching and re-working to reveal textures and colour below.
Terry studied textile design at West Surrey College of Art and Design (B.A.Hons) and then at City of Birmingham Polytechnic, where she gained an M.A. in printed textiles. For several years she worked as a freelance Textile designer and illustrator, combined with teaching in various colleges and schools, as well as developing her own ideas.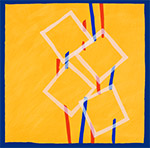 Sandra Blow R.A. (1925-2006) was a painter and teacher, working as a tutor at the Royal College of Art from 1961-75. During the 1950s, Sandra Blow was one of the pioneering abstract painters who introduced into British art a new expressive informality, using cheap, discarded materials such as sawdust, sackcloth and plaster alongside the more familiar material of paint. She exhibited locally but also fulfilled her obligations as a Royal Academician, participating in every Summer Exhibition at Burlington House, where she enjoyed a retrospective in 1994 at the newly built Sackler Galleries.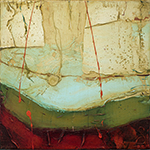 Barbara studied an Art Foundation Diploma in Buckinghamshire and a second foundation course in Brighton before gaining a BA in Fine Art from Brighton University. Her paintings reflect memories of the coastline or countryside, exploring the relationship between land and sea, from rocky craggy cliffs to soft velvet green rolling landscapes. Barbara always paints in oils with glazes that allow her to build each painting over several months. Much of her work resides in private collections in the UK, Europe and Australia.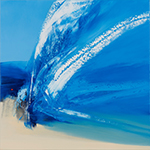 Neil Canning is a contemporary British artist. Although considered very much part of the landscape tradition, it is abstraction that allows him to convey a much more personal response to the surrounding world. His powerful, often dramatic paintings aim to capture the sensation of being outdoors. Neil has exhibited widely and his work appears in many major public, corporate and private collections worldwide. In 2011 he received an Honorary Doctorate from the University of Exeter for his 'outstanding contribution to contemporary British art'.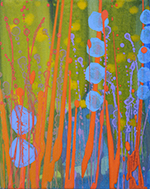 Charlotte has always found inspiration from places she has visited. She often uses photographs as an initial starting point for her compositions, but her paintings are not representations of places, but a mixture of elements from the seen world, and her own emotional responses and experience.She is fascinated by the qualities of paint, the unending possibilities of colour and colour relationships, and the potential this has to create connections and reactions. Acrylic paint is her preferred medium as this dries relatively quickly, allowing her to build up many layers of thinly poured paint, contrasting with directly applied, thicker marks. Her paintings are always left to dry before applying subsequent new marks. This allows Charlotte to remove or modify painted areas, without affecting the preceding layers. Charlotte's work is widely exhibited across the UK and her talents have been commissioned to create artwork for several major corporations and private collections.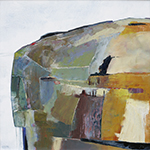 Heather takes her inspiration from a deep and strong connection with the expansive open moorlands of the north of England, combined with elements from everyday life, including landscape, music and poetry, and from memories. Each painting is a stream of consciousness, often starting in landscape but moving away from representation and becoming more abstract and expressive. She approaches each piece in an open and intuitive way, yet balances the spontaneity with controlled and considered choices of colour, gesture and mark-making.Her paintings use multiple-layered perspectives, from above, near or far. This invites free and changing interpretation from the viewer at each visit, yet each painting is a highly personal and emotive response to Heather's own experiences within landscapes and her memories of a childhood upbringing in the great outdoors of the moors.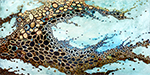 Amy Genser plays with paper and paint to explore her obsession with texture, pattern, and color. Evocative of natural forms and organic processes, her work is simultaneously irregular and ordered. She uses paper as pigment and constructs her pieces by layering, cutting, rolling, and combining paper. The natural world is a clear source for Amy's work. She is fascinated by the flow of water, the shape of beehives, and the organic irregularity of plants, flowers, rock formations, barnacles, moss, and seaweed. Her pieces bring to mind aerial landscape views, satellite imagery, and biological cellular processes. From Connecticut, USA, Amy's love affair with paper began in a paper-making class at the Rhode Island School of Design, where she received a masters degree in Graphic Design.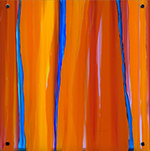 Bénédicte Gimonnet was born in Clermont-Ferrand, France. She graduated in Fine Art Painting from the Wimbledon College of Art.
Her paintings explore the power of light and the colour relativity in abstract minimalist compositions. Fascinated by the physicality and the layering process of paint on various surfaces - aluminium, wood, perspex, canvas - she plays with her mediums. She constantly oscillates between control and chance when she shapes the lines. From afar they seem straight, tidy and repetitive, but, upon closer inspection, they become irregular, deformed and unique.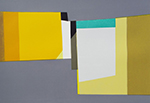 Hetty Haxworth graduated from The Glasgow School of Art in 1993. Her abstract prints are inspired by patterns found in nature, particularly from the coastal landscape. Her work investigates the delicate juxtaposition of colour, form and line. Hetty has shown several times in The Royal Academy Summer show, London, and her work is held in numerous private collections including The Royal Bank of Scotland.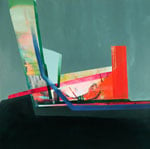 Nick Lamia is an award-winning artist whose work includes drawing, painting, printmaking, installation and sculpture. He is the recipient of a Guggenheim Fellowship as well as residencies at Wave Hill, The MacDowell Colony, the Robert Blackburn Print Workshop and the Triangle Artists Association. Lamia notes: "I'm trying to come up with imagery that is successfully combining technology and ecology and doing that by trying to combine geometric and organic imagery in a way where they can live together. It's not to say that I feel like balance is a really important thing, I feel like I'm more partial toward images that are imbalanced or off-kilter in a certain way, just a little off, so that there's flux and... ideally the compositions remain somewhat fresh because of that slight imbalance."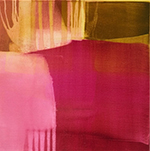 Katherine Palmers-Needham loves the excitement of making paint sing and play and has established a reputation for fluency in colour, mark-making and surface textures. In 2003 Katherine graduated from Chelsea College of Art with a first class honours degree. Since leaving Chelsea, Katherine has exhibited in a number of group shows and exhibitions in and around Britain. She has also had a range of commissions from large installations for major corporate clients, to intricate pieces for private homes in Europe, America and London. Katherine's technique is to build up layers of colour with translucent glazes, mixing her pigments with specialist oil mediums for varying effects; the joy of mixing paint, applying paint, building up layers, and scraping them away are what inspire her.
Gerhard Richter has produced abstract and photorealistic paintings, photographs and glass pieces. Richter has been the recipient of numerous distinguished awards and his place has been secured as one of the most important artists of the 20th century.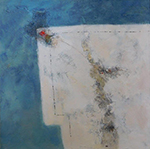 Hilary's work is a sophisticated reflection of our everyday world. Her work is touched with humour and deep consideration. Her combined choice of palette, texture and design fires the imagination and leads the eye in exploration around the picture but it is her restraint in the simplicity and honesty of her style that truly engages with the viewer, permitting us the freedom to imprint our own memories and experience.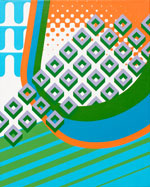 Grant Wiggins's vibrant geometric paintings negotiate the seemingly opposed polarities of minimalist and maximalist art. Clean lines, colourful curves, and interlocking shapes are hallmarks of his nonrepresentational minimalist paintings. Visually disorienting, "mix-and-clash" arrangements of vivid patterns, graphical elements, and stripes characterise his maximalist work. Wiggins has exhibited his art in numerous galleries and museums throughout the American Southwest, including five editions of the Arizona Biennial. His recent creative collaborations include Milan fashion house Jil Sander and Crate & Barrel's CB2 stores.