?
Inside the Unit...

Areas Covered
Lesson 1: Using lists and tables
Lesson 2: Using pictures
Download sample lesson above
Lesson 3: Using bar models
Lesson 4: Using x for an unknown
Lesson 5: Choosing a strategy
Unit assessment
There are 5 exercise sheets, each with answers included in this unit.
Compatible with a Mastery approach
Our resources complement the principles of Mastery throughout, creating a rich and deep learning experience. Through the use of pictorial representation, variation theory and mathematical reasoning, students and teachers can develop their confidence in teaching and learning maths through a contextualised approach. There is no need to reinvent your teaching strategy or style - our materials leave you in complete control over when and how you adapt our resources to best suit you and your students.
Summary - Out now!
Suitable for ALL examination boards
Problem solving is integrated into all of our course materials, and this standalone unit focuses on five key strategies and approaches that can be developed and applied across the course. The ability to solve problems has always been at the heart of mathematics, and in recent years, an increased emphasis has been placed on problem solving and reasoning skills through assessment materials.

Suitable for all major GCSE examination specifications, this unit considers a range of strategies and techniques which can be used when faced with a problem to solve. The strategies include making a list, making a table, looking for patterns, drawing a picture and making use of a bar model. Further strategies consider how to make use of x for the unknown and consider situations when this strategy would be useful. The importance of a logical approach is emphasised and exemplified.
Have you seen our GCSE teaching units?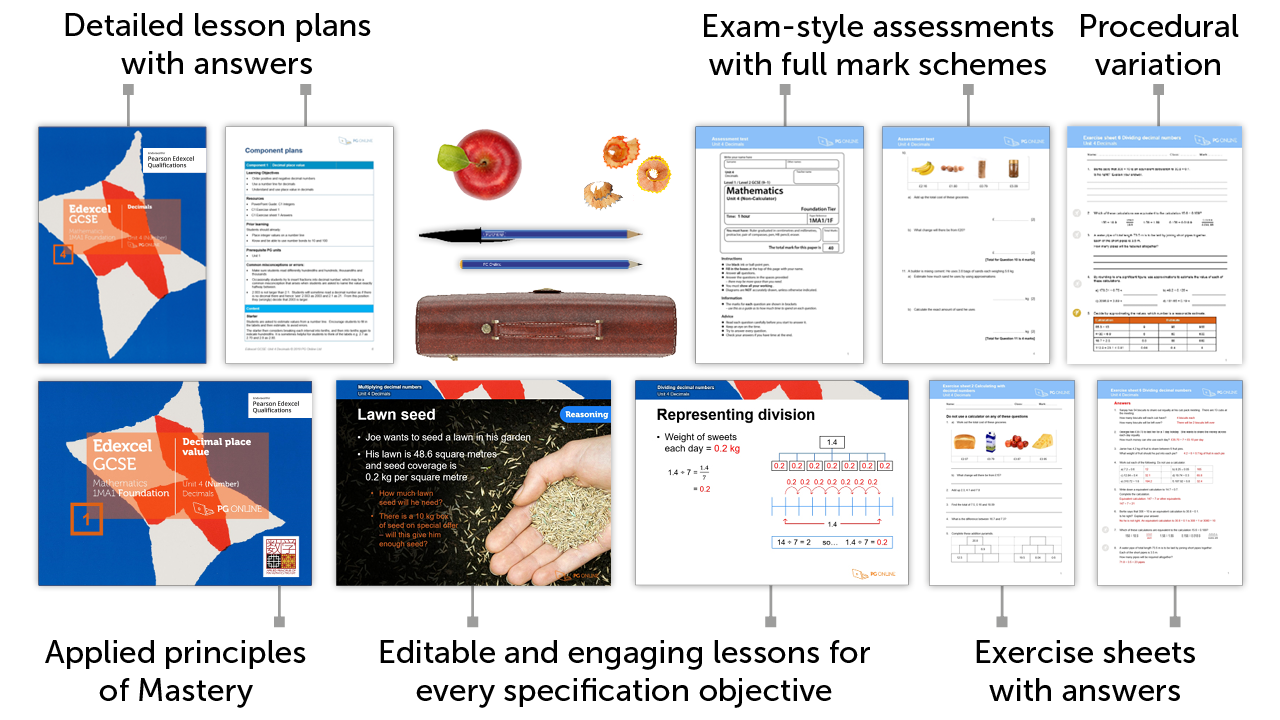 The GCSE units have been written to satisfy the specification for the Edexcel 1MA1 Maths GCSE. Each unit contains:
PowerPoint slides for each component
Detailed lesson plans
Learning objectives and outcomes
Worksheets and homework activities with answers
End-of-unit, exam-style assessment test with answers
Other material and links to online resources
What people say...
"

"

Really useful resources to help build our new schemes of learning throughout D&T curriculum.

Linda Hill. Design and Technology Teacher, Coundon Court
"

"

The lessons were easy to use and fitted into the time available.

Tamsin Woolford. Mathematics teacher, Clayesmore School
Relevant Textbooks
Inside the Unit...

Areas Covered

Lesson 1: Using lists and tables
Lesson 2: Using pictures
Download sample lesson above
Lesson 3: Using bar models
Lesson 4: Using x for an unknown
Lesson 5: Choosing a strategy
Unit assessment

There are 5 exercise sheets, each with answers included in this unit.

Compatible with a Mastery approach

Our resources complement the principles of Mastery throughout, creating a rich and deep learning experience. Through the use of pictorial representation, variation theory and mathematical reasoning, students and teachers can develop their confidence in teaching and learning maths through a contextualised approach. There is no need to reinvent your teaching strategy or style - our materials leave you in complete control over when and how you adapt our resources to best suit you and your students.

How to order

1. Add individual units to a draft order or download a blank order form below to complete manually

2. Using a draft order you can either:

Save your order online
(registration or log in required)
Email us your complete order
(registration or log in required)
Create a PDF
(to fax or email at a later date)

Download blank order form

Unit Pricing and Discounts

Each unit is individually priced for LIFE. Please view each unit for detail. 

Discounts are cumulative based on the total of units licenced to your department.

All prices subject to further discounts and VAT.

There are no annual renewal fees.

| | |
| --- | --- |
| 2-5 units | 10% discount |
| 6-11 units | 15% discount |
| 12-23 units | 20% discount |
| 24+ units | 25% discount |