4
Inside the Unit...

Areas Covered
Lesson 1 Network threats
Download free lesson above
Lesson 2 Identifying and preventing vulnerabilities
Lesson 3 Operating systems software

Lesson 4 Utility software
Lesson 5 Assessment
There are 4 worksheets, 4 homework tasks, and an assessment test, each with answers included in this unit.
Summary
This short unit is subdivided into four topics plus an examination style test. It is a theoretical unit covering Sections 1.4 and 1.5 of the latest OCR GCSE J277 Computing specification.
This unit begins by looking at the threats and vulnerabilities of computer systems and programs, including social engineering and the concept of SQL injection. Encryption and penetration testing are covered as examples of various methods of preventing vulnerabilities. The unit continues to focus on operating systems software, their function and typical utility software programs including defragmentation and compression programs.
What's included in the toolkit?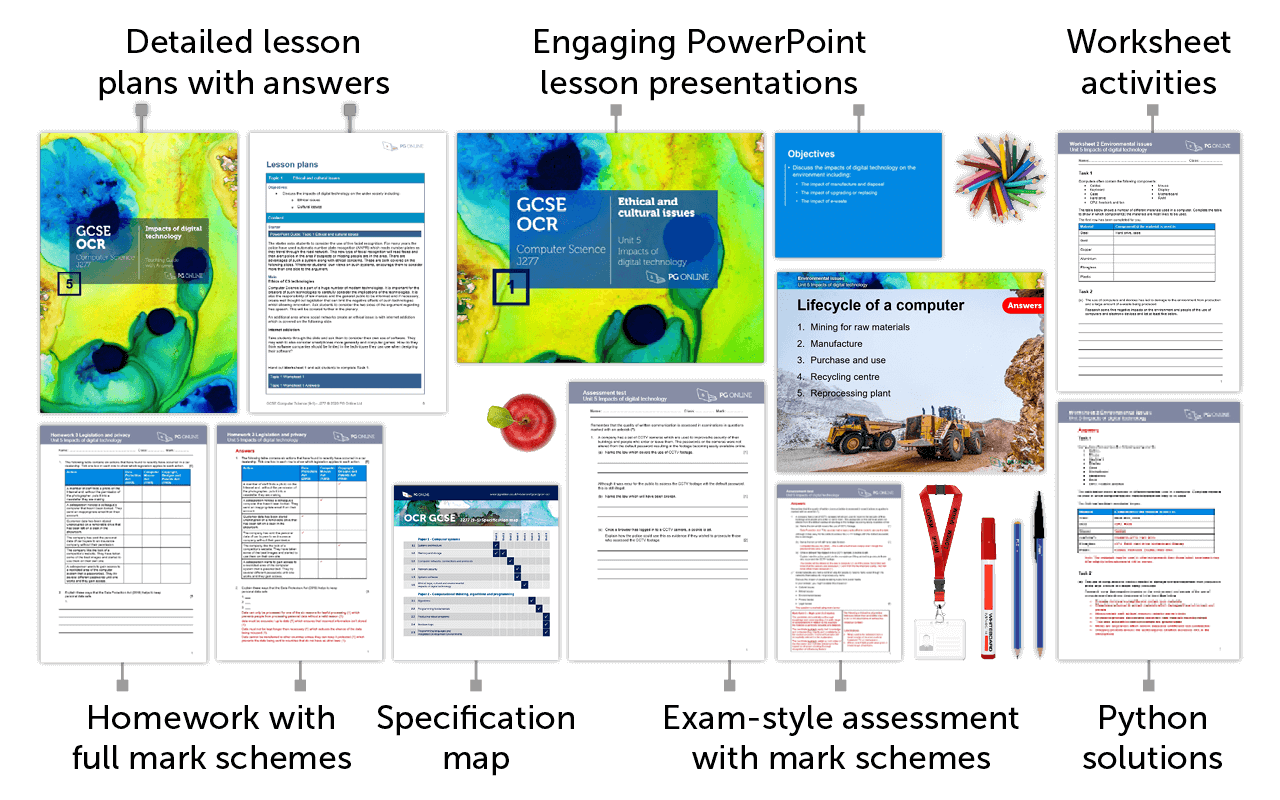 The GCSE units have been written to comprehensively satisfy the specification the OCR J277 Computing GCSE. Each unit delivers a complete solution comprising:
PowerPoint slides for each lesson
Detailed lesson plans
Learning objectives and outcomes
Worksheets and homework activities with answers
End-of-unit Assessment test with answers
Other material and links to online resources
What people say...
"

"

Over the past year or so we have been working through the resources which have prepared the students well.

Mark Osbourne. Head of Computing, Soar Valley College
"

"

Coming to the end of a year using both your AQA GCSE and AS level resources for the first time I just wanted to thank you – it's been a very easy and pleasant experience!

Paul Curran. Director of IT, Christ College
Relevant Textbooks
Inside the Unit...

Areas Covered

Lesson 1 Network threats
Download free lesson above
Lesson 2 Identifying and preventing vulnerabilities
Lesson 3 Operating systems software

Lesson 4 Utility software
Lesson 5 Assessment

There are 4 worksheets, 4 homework tasks, and an assessment test, each with answers included in this unit.

How to order

1. Add individual units to a draft order or download a blank order form below to complete manually

2. Using a draft order you can either:

Save your order online
(registration or log in required)
Email us your complete order
(registration or log in required)
Create a PDF
(to fax or email at a later date)

Download blank order form

Unit Pricing and Discounts

Each unit is individually priced for LIFE. Please view each unit for detail. 

Discounts are cumulative based on the total of units licenced to your department.

All prices subject to further discounts and VAT.

There are no annual renewal fees.

| | |
| --- | --- |
| 2-5 units | 10% discount |
| 6-11 units | 15% discount |
| 12+ units | 20% discount |