3
Inside the Unit...

Areas Covered
Lesson 1 The Internet and wide area networks
Lesson 2 Local Area Networks
Lesson 3 Wireless networking

Lesson 4 Client-server and peer-to-peer networks
Download free lesson above
Lesson 5 Protocols and layers
Lesson 6 Assessment
There are 5 worksheets, 5 homework tasks, and an assessment test, each with answers included in this unit.
Summary
The unit is subdivided into six learning hours spread across six lessons, including a test, in order to fit with most school timetables. It is a theoretical unit covering Section 1.3 of the latest OCR GCSE J277 Computing specification.
The unit begins by explaining the Internet and IP addressing, with practical exercises to help students understand the role of packet switching and DNS services. The lessons move on to look at star and mesh LAN network topologies and Ethernet. Wireless networking and encryption are covered in subsequent lessons. Client-server networks and hosting are addressed with a final lesson describing common protocols and the concept of layers. At the end of the unit, students sit an assessment test comprising questions similar to those found on the OCR exam paper.
What's included in the toolkit?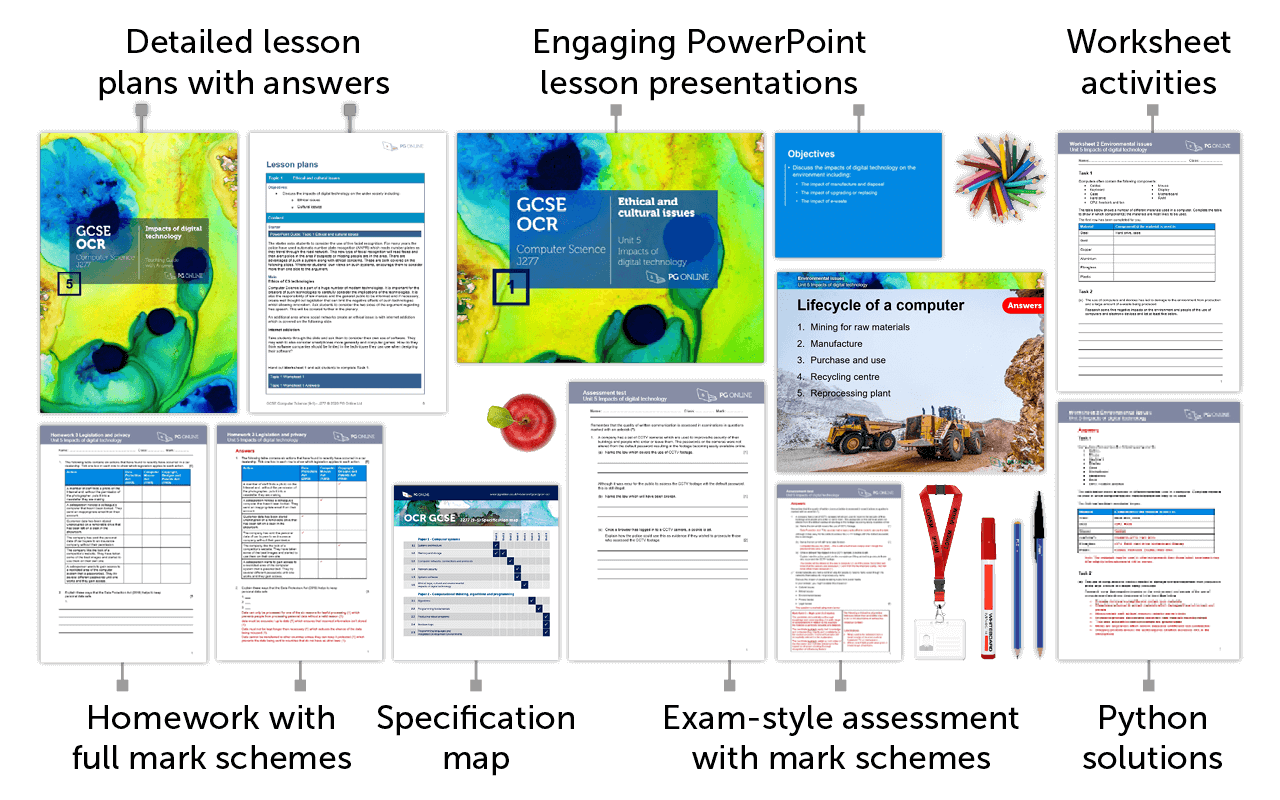 The GCSE units have been written to comprehensively satisfy the specification the OCR J277 Computing GCSE. Each unit delivers a complete solution comprising:
PowerPoint slides for each lesson
Detailed lesson plans
Learning objectives and outcomes
Worksheets and homework activities with answers
End-of-unit Assessment test with answers
Other material and links to online resources
What people say...
"

"

I've found your service very effective and the materials are great.

Alasdair Sharp. Computer Science teacher, Balfron High School
"

"

I have been using the AQA AS materials produced by PG Online for the first time. They are full of content with the correct level of detail for the specification. Each session incorporates opportunity for the students to review the material with in-class tasks, a homework and an end of unit test. They are really great - such a time-saver.

Ms Alison Copeland. Computer Science Lecturer, Chichester College
Relevant Textbooks
Inside the Unit...

Areas Covered

Lesson 1 The Internet and wide area networks
Lesson 2 Local Area Networks
Lesson 3 Wireless networking

Lesson 4 Client-server and peer-to-peer networks
Download free lesson above
Lesson 5 Protocols and layers
Lesson 6 Assessment

There are 5 worksheets, 5 homework tasks, and an assessment test, each with answers included in this unit.

How to order

1. Add individual units to a draft order or download a blank order form below to complete manually

2. Using a draft order you can either:

Save your order online
(registration or log in required)
Email us your complete order
(registration or log in required)
Create a PDF
(to fax or email at a later date)

Download blank order form

Unit Pricing and Discounts

Each unit is individually priced for LIFE. Please view each unit for detail. 

Discounts are cumulative based on the total of units licenced to your department.

All prices subject to further discounts and VAT.

There are no annual renewal fees.

| | |
| --- | --- |
| 2-5 units | 10% discount |
| 6-11 units | 15% discount |
| 12+ units | 20% discount |