Chemistry AQA GCSE
£249.00 Single payment + Annual renewal
Chemistry Trilogy and Solus, Foundation and Higher
Complete set of 11 teaching units. Our resources apply a visual and contextual approach to lessons. Working scientifically is a key theme throughout the series of lessons that each cover the key assessment objectives to provide thorough and confident coverage of the complete specification.
Subscription package
This curriculum package of 11 GCSE AQA Chemistry teaching units is developed to deliver the subject through contextual and visually engaging examples. The principles of working scientifically are embedded into each lesson, within each teaching unit.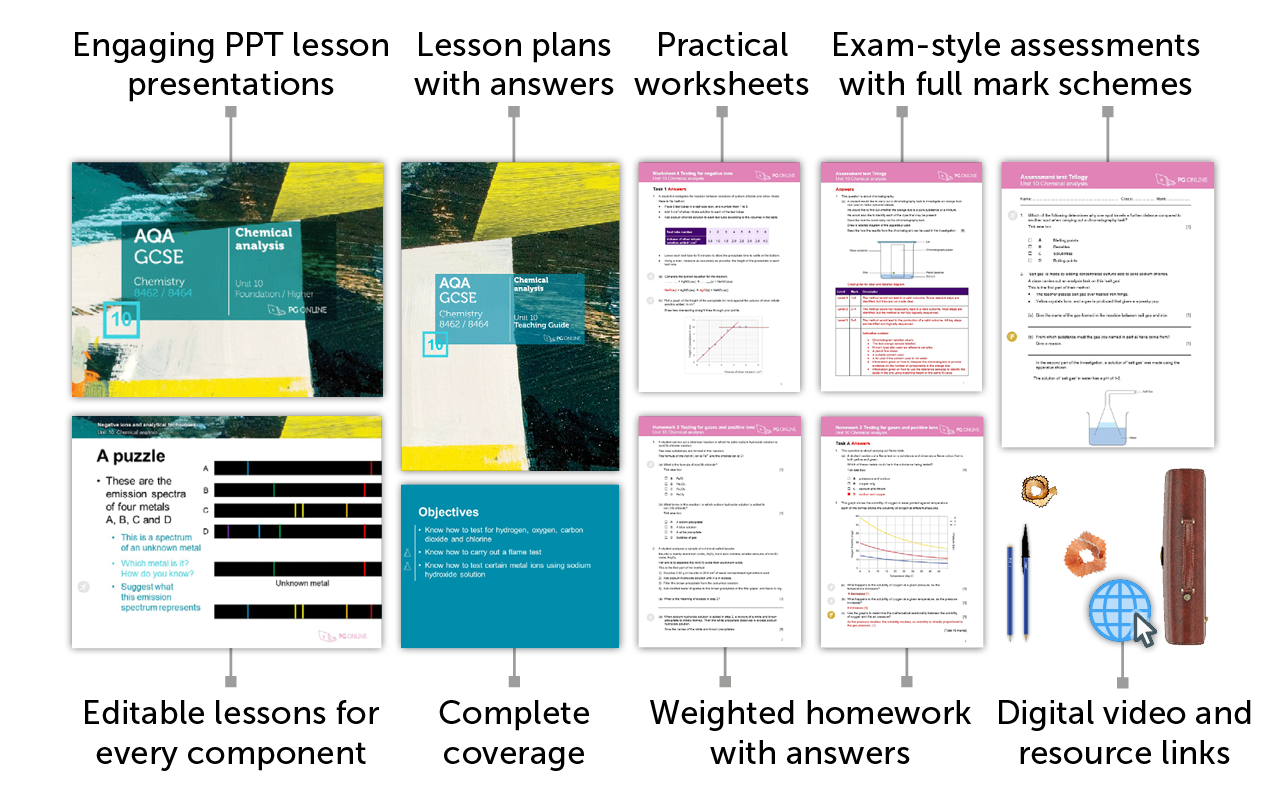 What's included in the complete series?
Tailored to the separate Chemistry 8462 and Trilogy

 8464 specifications

with PowerPoints, lesson plans worksheets and homework questions for every lesson
End-of-unit, exam-style assessment tests with answers, differentiated for trilogy and separate chemistry students
Other material and links to online resources
Contextualised learning
Implement a curriculum with a consistency of excellence across a department
Ideal support for new and non-specialist teachers
100-day money back guarantee
This subscription package includes the following units:
Unit 1: Atomic structure

AQA 8462 / 8464 Chemistry

Unit 2: The Periodic Table

AQA 8462 / 8464 Chemistry

Unit 3: Structure and bonding

AQA 8462 / 8464 Chemistry

Unit 4: Chemical calculations

AQA 8462 / 8464 Chemistry

Unit 5: Chemical change

AQA 8462 / 8464 Chemistry

Unit 6: Heat changes and electrolysis

AQA 8462 / 8464 Chemistry

Unit 7: Rates of reaction and equilibria

AQA 8462 / 8464 Chemistry

Unit 8: Crude oil and fuels

AQA 8462 / 8464 Chemistry

Unit 9: Further organic chemistry

AQA 8464 Chemistry

Unit 10: Chemical analysis

AQA 8462 / 8464 Chemistry

Unit 11: The Earth's resources

AQA 8462 / 8464 Chemistry