Maths Mastery for Foundation AQA GCSE
£299.00 Single payment + Annual renewal
Mathematics Mastery
Complete set of 25 teaching units. Our resources apply the principles of Mastery throughout, creating a rich and deep learning experience. Find out more about Mastery with our quick guide using the link below.
Subscription package
This curriculum package of 25 Foundation Maths Mastery teaching units is developed to deliver the subject through contextual and representational examples. The principles of Mastery are embedded into each lesson, within each teaching unit.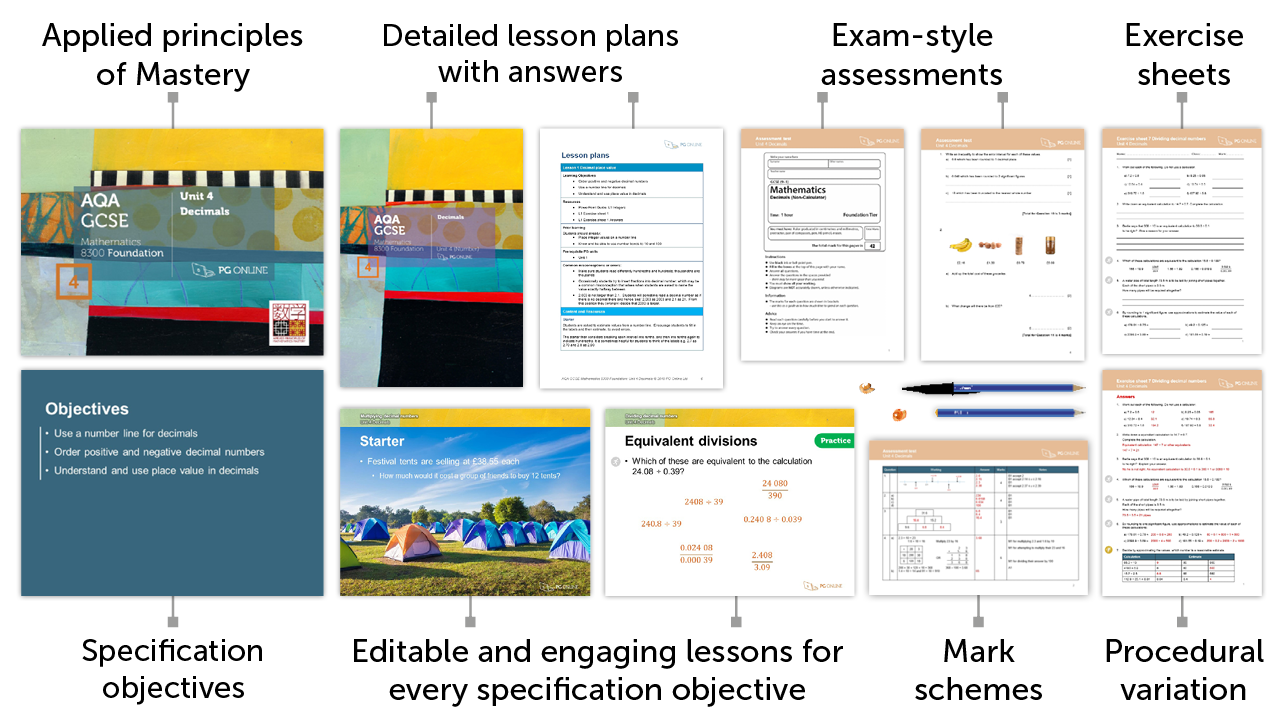 What's included in the Mastery curriculum?
Tailored to the AQA 8300 9-1 specification with PowerPoints, lesson plans and exercise sheets for every lesson
End-of-unit, exam-style assessment test with answers
Other material and links to online resources
Inclusive of problem solving and reasoning
Procedural variation theory
Contextualised learning with pictorial representation
Implement a curriculum with a consistency of excellence across a department
Ideal support for new and non-specialist teachers
Complete teaching solution with presentations and lesson plans
100-day money back guarantee
This subscription package includes the following units:
Unit 1: Integers

Foundation

Unit 2: Primes, factors and multiples

Foundation

Unit 3: Algebraic expressions

Foundation

Unit 4: Decimals

Foundation

Unit 5: Measures

Foundation

Unit 6: Fractions

Foundation

Unit 7: Straight line graphs

Foundation

Unit 8: Fractions, decimals and percentages

Foundation

Unit 9: Probability

Foundation

Unit 10: Ratio

Foundation

Unit 11: Shapes and transformations

Foundation

Unit 12: Sequences

Foundation

Unit 13: Proportion

Foundation

Unit 15: Properties of shapes

Foundation

Unit 16: Applications of number

Foundation

Unit 17: Further graphs

Foundation

Unit 18: Geometry

Foundation

Unit 19: Equations and identities

Foundation

Unit 20: Trigonometry

Foundation

Unit 21: Statistics

Foundation

Unit 22: Probability diagrams

Foundation

Unit 23: Mensuration

Foundation

Unit 24: Applications of ratio

Foundation

Unit 25: Further equations

Foundation