A
Inside the Unit...

Areas Covered
Topic 1 Communication technologies
Download sample lesson above
Topic 2 Cloud storage and computing
Topic 3 Using cloud technologies
Topic 4 Modern team working
Topic 5 Inclusivity and accessibility
Topic 6 Impacts of modern technologies
Assessment
There are 6 worksheets, 6 homework tasks, and an assessment test, each with answers included in this Series.
Learning Aim A: Summary
These resources are subdivided into six topics plus an end-of-unit assessment. Each topic contains enough content for one to two lessons of material. The resources contain appropriate case studies and scenarios to help illustrate how IT is used in business and industry. The first topic looks at communication technologies and networks before modern cloud storage, cloud computing and cloud technologies are discussed in the second topic. The third topic considers how cloud and 'traditional' systems are used together and the implications for organisations. Topics four to six consider the impact of modern technologies on teams and organisations. After the final topic there is an opportunity for students to sit an assessment test comprising questions of a similar style to those found on the BTEC component 3 exam paper.
What's included in the toolkit?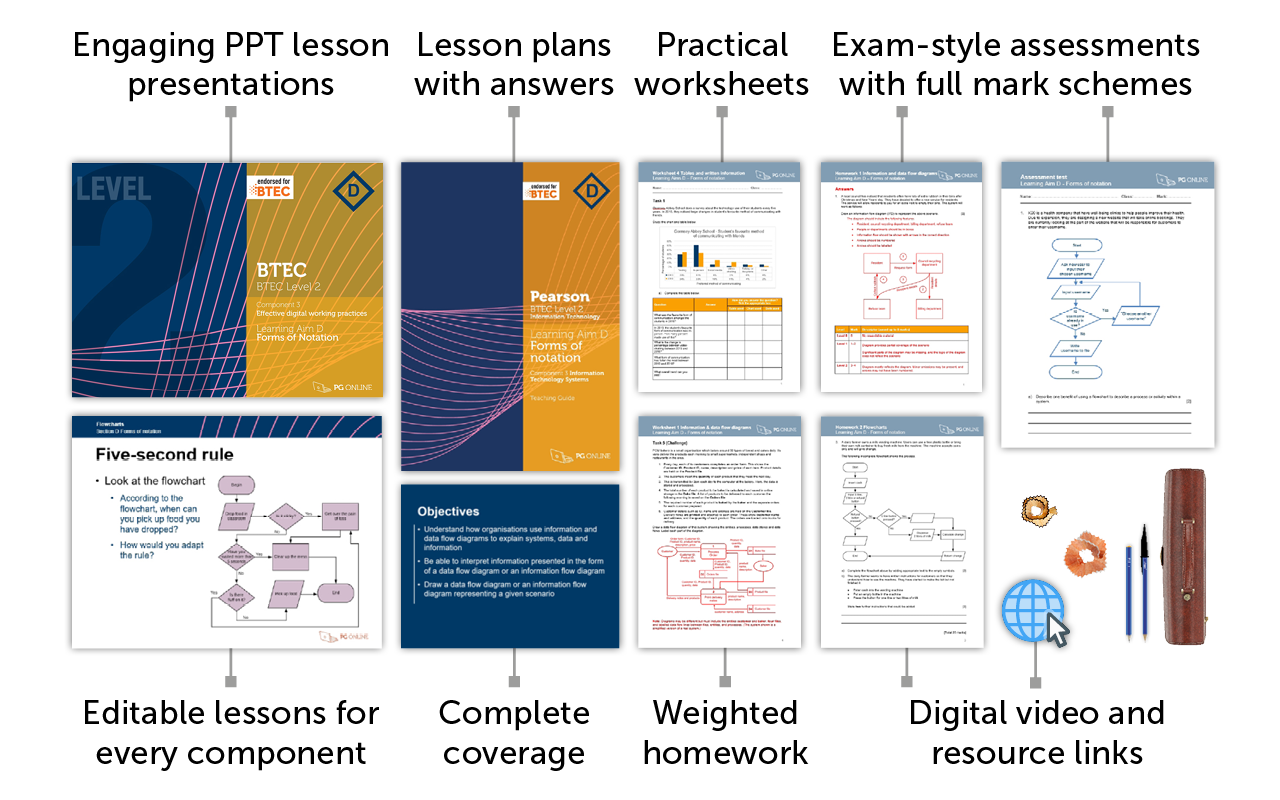 The BTEC Teaching Series has been written to satisfy the specification for the theoretical element Component 3 of the Pearson BTEC Level 2 specification. Each pack contains:
PowerPoint slides for each lesson
Detailed lesson plans
Learning objectives and outcomes
Worksheets and homework activities with answers
End-of-unit Assessment test with answers
Other material and links to online resources
What people say...
"

"

All the resources I have brought from you previously have been excellent and a great help in delivering my lessons for BTEC Level 2 and GCSE.

Theresa Brown. Computer Science Teacher, Paget High School
"

"

I have a lot of low ability students who struggle to engage with education generally and these resources have tapped into their interests in an engaging but productive way.

Alan Glasgow. Head of IT and Computer Science, Norton Hill School
Relevant Textbooks
Inside the Unit...

Areas Covered

Topic 1 Communication technologies
Download sample lesson above
Topic 2 Cloud storage and computing
Topic 3 Using cloud technologies
Topic 4 Modern team working
Topic 5 Inclusivity and accessibility
Topic 6 Impacts of modern technologies
Assessment

There are 6 worksheets, 6 homework tasks, and an assessment test, each with answers included in this Series.

How to order

1. Add individual units to a draft order or download a blank order form below to complete manually

2. Using a draft order you can either:

Save your order online
(registration or log in required)
Email us your complete order
(registration or log in required)
Create a PDF
(to fax or email at a later date)

Download blank order form

Unit Pricing and Discounts

Each unit is individually priced for LIFE. Please view each unit for detail. 

Discounts are cumulative based on the total of units licenced to your department.

All prices subject to further discounts and VAT.

There are no annual renewal fees.

| | |
| --- | --- |
| 2-5 units | 10% discount |
| 6-11 units | 15% discount |
| 12+ units | 20% discount |