A
Inside the Unit...

Areas Covered
Topic 1 Mood boards

Download free lesson above
Topic 2 Mind maps
Topic 3 Visualisation diagrams
Topic 4 Cameras and lighting
Topic 5 Storyboards
Topic 6 Scripts
Topic 7 File formats
Assessment
There are 7 worksheets, 7 homework tasks, and an assessment test, each with answers included in this Series.
Pack A: Summary
This pack covers Learning Outcomes 1, 3 and 4 of Unit R081.
The resources are subdivided into seven topics plus an end-of-unit assessment. Each topic contains enough content for one to two lessons of material. Presentations take students through key concepts in the specification including pre-production examples and areas where improvements could be made. Assessments at the end of each topic give exam-style questions for the topic. The resources have been made to be used either before teaching any other units, during the course or as revision before the final exam. Each topic, such as Mood boards, covers Learning Outcomes 1 ,3 and 4 for that particular topic. This pack of materials does not assume any prior knowledge.
The first topic covers mood boards including all the details that can be included on them. The second and third topics cover mind maps and visualisation diagrams. A separate independent topic is given on Cameras and lighting to introduce students to different types of shots, angles and movement. Topics five and six cover storyboards and scripts. The final topic considers the different file formats that are used for pre-production documents. A final assessment gives students an opportunity to sit an assessment test comprising questions of a similar style to those found on an R081 Pre-production skills exam paper.
The iMedia Teaching Series has been written to satisfy the specification for the elements assessed by written examination for the OCR Nationals in Creative iMedia Level 1/2 specification. Each pack contains:
PowerPoint slides for each lesson
Detailed lesson plans
Learning objectives and outcomes
Worksheets and homework activities with answers
End-of-unit Assessment test with answers
Other material and links to online resources
What's included in the toolkit?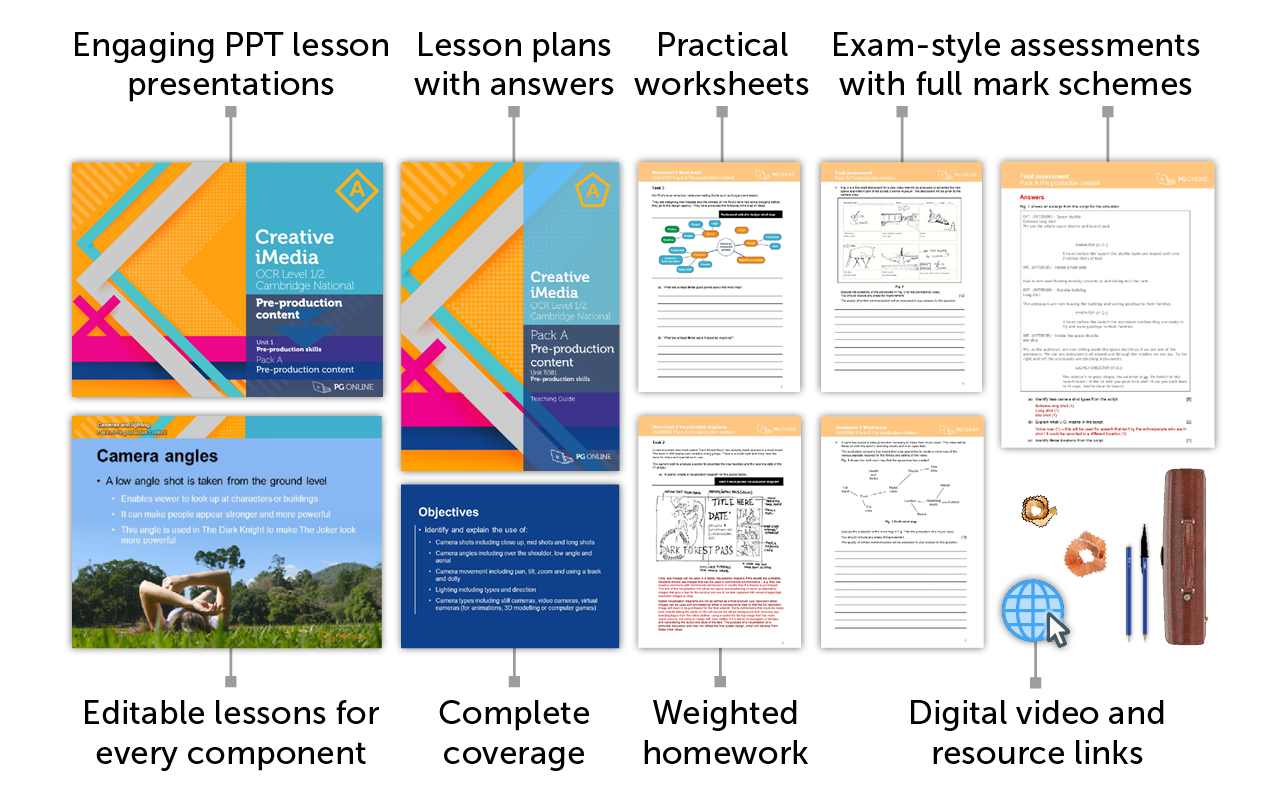 What people say...
"

"

The materials I have used so far have been great and allow for me to be flexible in my teaching without having to spend hours preparing for lessons.

Diane Collins. Teacher of Computing, Aylsham High School
"

"

The resources have saved me so much time. They are like a dream come true; brilliantly designed and top quality content.

Stephen Tebbutt. Head of Computer Science, Loretto School
Inside the Unit...

Areas Covered

Topic 1 Mood boards

Download free lesson above
Topic 2 Mind maps
Topic 3 Visualisation diagrams
Topic 4 Cameras and lighting
Topic 5 Storyboards
Topic 6 Scripts
Topic 7 File formats
Assessment

There are 7 worksheets, 7 homework tasks, and an assessment test, each with answers included in this Series.

How to order

1. Add individual units to a draft order or download a blank order form below to complete manually

2. Using a draft order you can either:

Save your order online
(registration or log in required)
Email us your complete order
(registration or log in required)
Create a PDF
(to fax or email at a later date)

Download blank order form

Unit Pricing and Discounts

Each unit is individually priced for LIFE. Please view each unit for detail. 

Discounts are cumulative based on the total of units licenced to your department.

All prices subject to further discounts and VAT.

There are no annual renewal fees.

| | |
| --- | --- |
| 2-5 units | 10% discount |
| 6-11 units | 15% discount |
| 12+ units | 20% discount |