B
Inside the Unit...

Areas Covered
Topic 1 Pre-production planning

Topic 2 Research
Topic 3 Work plans and production schedules
Topic 4 Hardware and software
Topic 5 Legislation for assets
Topic 6 Legislation for production
Assessment
There are 6 worksheets, 6 homework tasks, and an assessment test, each with answers included in this Series.
Pack B: Summary
This pack covers Learning Outcome 2 of Unit R081.
The resources are subdivided into six topics plus an end-of-unit assessment. Topics have enough content for one to two teaching lessons. Assessments at the end of each topic give exam-style questions for the topic. Assessments at the end of each topic give exam-style questions for the topic. The resources have been made to be used either before teaching any other units, during the course or as revision before the final exam. Whilst this pack of materials only covers Learning Outcome 2, it is advised that the other learning outcomes are taught first through Pack A.
The first topic covers the planning of pre-production along with client requirements, timescales and the target audience. The second and third topics cover research and work plans. The hardware and software used to create pre-production documents are covered in topic 4 along with how paper-based documents are digitised. Legislation of assets such as copyright and trademarks are covered in topic 5 with topic 6 covering other legislation such as data protection and privacy. The final assessment gives students an assessment test comprising questions of a similar style to those found on an R081 Pre-production skills exam paper.
The iMedia Teaching Series has been written to satisfy the specification for the elements assessed by written examination for the OCR Nationals in Creative iMedia Level 1/2 specification. Each pack contains:
PowerPoint slides for each lesson
Detailed lesson plans
Learning objectives and outcomes
Worksheets and homework activities with answers
End-of-unit Assessment test with answers
Other material and links to online resources
What's included in the toolkit?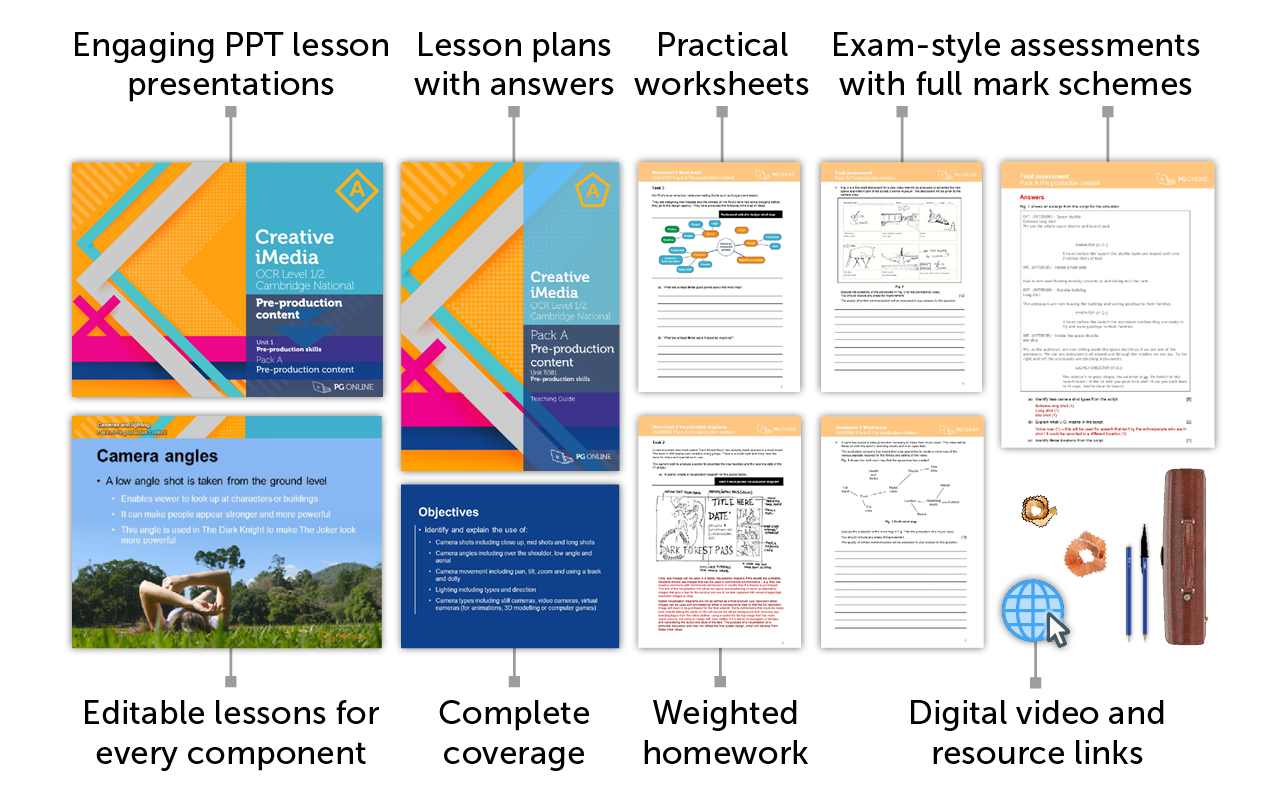 What people say...
"

"

PG Online resources offer a great deal of support for teachers, especially for those struggling to make the transition from ICT to Computer Science. I am also particularly impressed with the clarity of the explanations and the way that the topics are broken into manageable pieces that students will be able to understand.

Mr Neil Hattan. Head of Computer Science, St Mary's Menston
"

"

I've found your service very effective and the materials are great.

Alasdair Sharp. Computer Science teacher, Balfron High School
Inside the Unit...

Areas Covered

Topic 1 Pre-production planning

Topic 2 Research
Topic 3 Work plans and production schedules
Topic 4 Hardware and software
Topic 5 Legislation for assets
Topic 6 Legislation for production
Assessment

There are 6 worksheets, 6 homework tasks, and an assessment test, each with answers included in this Series.

How to order

1. Add individual units to a draft order or download a blank order form below to complete manually

2. Using a draft order you can either:

Save your order online
(registration or log in required)
Email us your complete order
(registration or log in required)
Create a PDF
(to fax or email at a later date)

Download blank order form

Pricing and Discounts

Each unit is individually priced for LIFE. Please view each unit for detail. 

Discounts are cumulative based on the total of units licenced to your department.

All prices subject to further discounts and VAT.

There are no annual renewal fees.

| | |
| --- | --- |
| 2-5 units | 10% discount |
| 6-11 units | 15% discount |
| 12+ units | 20% discount |