2A
Inside the Unit...

Areas Covered
Lesson 1 Data types and operations
Download sample lesson above
Lesson 2 Sequence and selection
Lesson 3 Iteration

Lesson 4 Arrays
Lesson 5 Records and files
Lesson 6 Assessment
There are 5 worksheets, 5 homework tasks, and an examination-style assessment test, each with answers included in this unit.
Summary
The unit covers the AQA GCSE (9-1) Computer Science specification 8520, Sections 3.2.1 (except subroutines, covered in Unit 2B) to 3.2.9. The first lesson in the unit covers data types and arithmetic operations. Sequence, selection and iteration are covered in the next two lessons, followed by a lesson on arrays and records, with a final lesson on reading from and writing to a text file.
Although the lessons can be delivered without students having to use computers, they will benefit from translating their pseudocode solutions to program code and testing them. All the worksheets contain exercises which provide opportunities for practical programming in the language of choice. Sample solutions are provided in Python to many exercises.
What's included in the toolkit?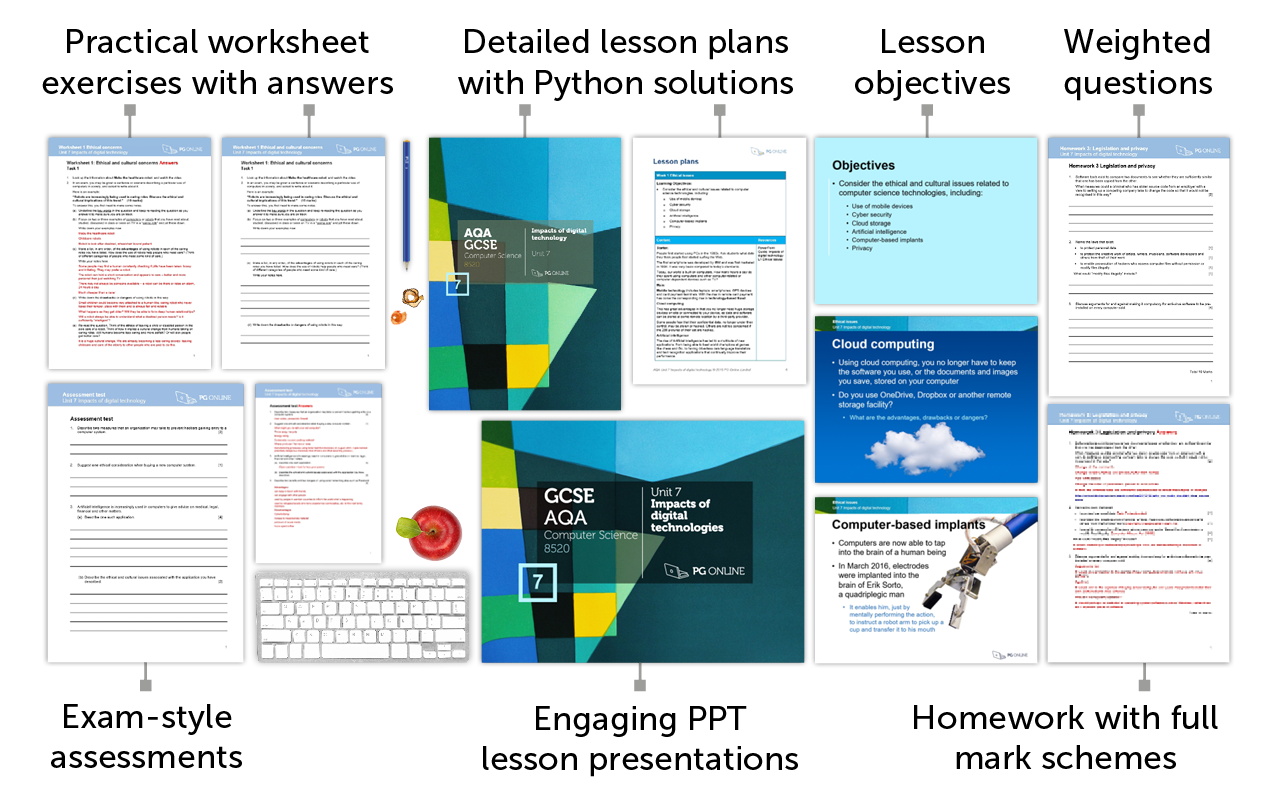 The GCSE units have been written to satisfy the specification for Paper 1 and Paper 2 of the AQA 8520 Computer Science GCSE. Each unit contains:
PowerPoint slides for each topic
Detailed lesson plans
Learning objectives and outcomes
Worksheets and homework activities with answers
End-of-unit, exam-style assessment test with answers
Other material and links to online resources
What people say...
"

"

PG Online have been a lifesaver for good quality schemes of work. The resources are really well thought out, really well paced and the homeworks and assessments test the core understanding of each lesson. I have also found the textbooks to be a great course companion.

Phillip McKenzie. Head of Computer Science, The Kings School
"

"

PG Online resources are very well planned and easy to use. Inspection copies are also useful as this enables me to make better choices with our limited budgets.

Gillian Broadhead. ACTL Creative and Technical Studies, Ridgewood High School
Relevant Textbooks
Inside the Unit...

Areas Covered

Lesson 1 Data types and operations
Download sample lesson above
Lesson 2 Sequence and selection
Lesson 3 Iteration

Lesson 4 Arrays
Lesson 5 Records and files
Lesson 6 Assessment

There are 5 worksheets, 5 homework tasks, and an examination-style assessment test, each with answers included in this unit.

How to order

1. Add individual units to a draft order or download a blank order form below to complete manually

2. Using a draft order you can either:

Save your order online
(registration or log in required)
Email us your complete order
(registration or log in required)
Create a PDF
(to fax or email at a later date)

Download blank order form

Unit Pricing and Discounts

Each unit is individually priced for LIFE. Please view each unit for detail. 

Discounts are cumulative based on the total of units licenced to your department.

All prices subject to further discounts and VAT.

There are no annual renewal fees.

| | |
| --- | --- |
| 2-5 units | 10% discount |
| 6-11 units | 15% discount |
| 12+ units | 20% discount |