4
Inside the Unit...

Areas Covered
Lesson 1 Boolean logic
Lesson 2 Application and system software
Lesson 3 Systems architecture

Lesson 4 The CPU and Fetch-Execute cycle
Lesson 5 Memory
Lesson 6 Secondary storage
Download sample lesson above
Lesson 7 Assessment
There are 6 worksheets, 6 homework tasks, and an examination-style assessment test, each with answers included in this unit.
Summary
The unit is subdivided into six learning hours spread across six lessons, plus a test, in order to fit with most school timetables. It is a theoretical unit covering Section 3.4 of the AQA GCSE Computer Science specification.
It builds on the fundamentals covered in the Key Stage 3 NC and our unit Understanding Computers and then extends this knowledge to a level sufficient for examination purposes. Students begin by looking at software classification including the function of the Operating System. Lessons continue to cover systems architecture and factors affecting performance. The many forms of memory available in modern computers including RAM, ROM and cache are also covered along with secondary storage devices and their uses. The unit concludes with lessons Boolean logic and embedded systems.
What's included in the toolkit?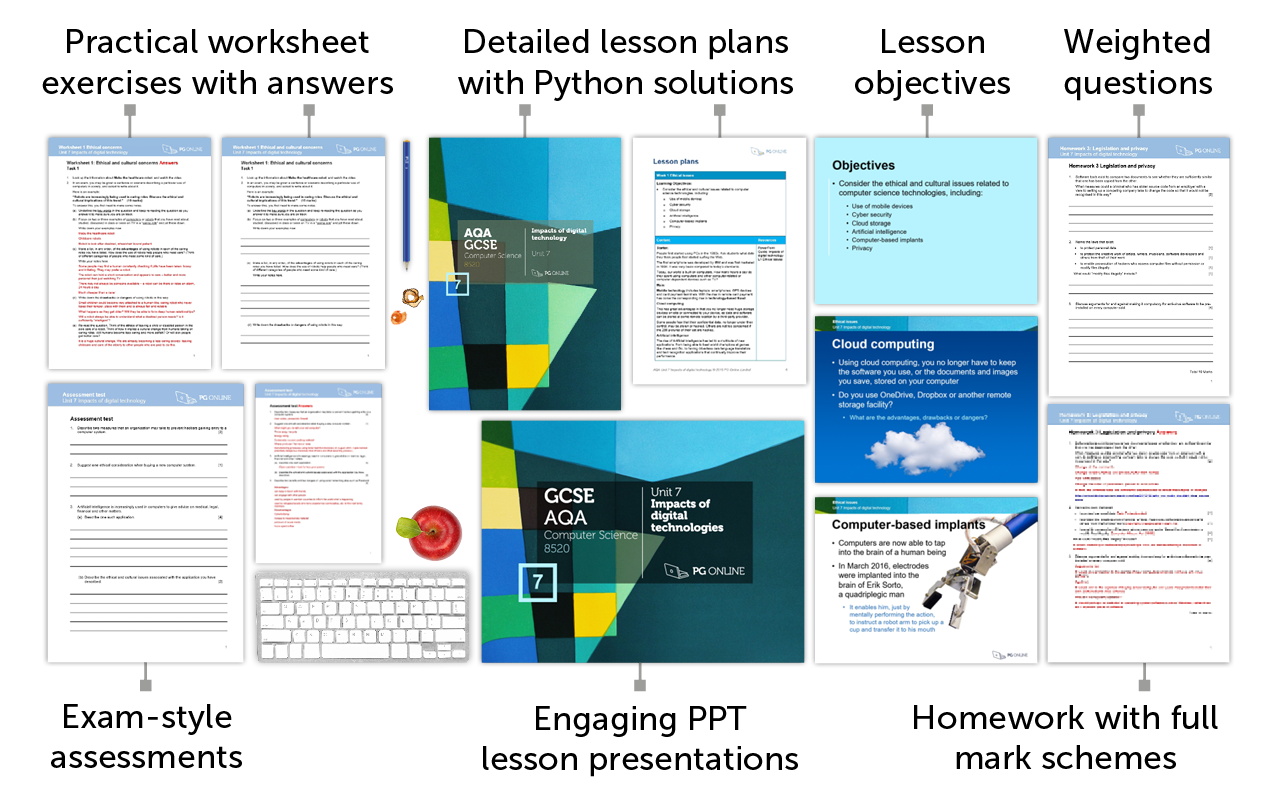 The GCSE units have been written to satisfy the specification for Paper 1 and Paper 2 of the AQA 8520 Computer Science GCSE. Each unit contains:
PowerPoint slides for each topic
Detailed lesson plans
Learning objectives and outcomes
Worksheets and homework activities with answers
End-of-unit, exam-style assessment test with answers
Other material and links to online resources
What people say...
"

"

Many thanks for continuing to improve and expand your excellent resources. I can't begin to add up the time it has saved us.

Jules Hazzledine. Head of ICT & Business Studies, William Farr School
"

"

The PowerPoints were thorough and detailed and helped my knowledge of the subject as a non specialist.

Thomas Fincham. Science teacher, Lutterworth College
Relevant Textbooks
Inside the Unit...

Areas Covered

Lesson 1 Boolean logic
Lesson 2 Application and system software
Lesson 3 Systems architecture

Lesson 4 The CPU and Fetch-Execute cycle
Lesson 5 Memory
Lesson 6 Secondary storage
Download sample lesson above
Lesson 7 Assessment

There are 6 worksheets, 6 homework tasks, and an examination-style assessment test, each with answers included in this unit.

How to order

1. Add individual units to a draft order or download a blank order form below to complete manually

2. Using a draft order you can either:

Save your order online
(registration or log in required)
Email us your complete order
(registration or log in required)
Create a PDF
(to fax or email at a later date)

Download blank order form

Unit Pricing and Discounts

Each unit is individually priced for LIFE. Please view each unit for detail. 

Discounts are cumulative based on the total of units licenced to your department.

All prices subject to further discounts and VAT.

There are no annual renewal fees.

| | |
| --- | --- |
| 2-5 units | 10% discount |
| 6-11 units | 15% discount |
| 12+ units | 20% discount |