7
Inside the Unit...

Areas Covered
Lesson 1 Ethical issues
Lesson 2 Digital technology in society
Lesson 3 Legislation and privacy
Lesson 4 Assessment test
There are 3 worksheets, 3 homework tasks and relevant web links included in this unit.
This is a free unit (full price £60)
Summary
This free unit begins by looking at the cultural implications of digital technology and algorithms, before considering their ethical and environmental impact. Government intervention and security is also considered. Copyright and licencing (including that of algorithms) is encompassed in the final lessons with related legislation.
What's included in the toolkit?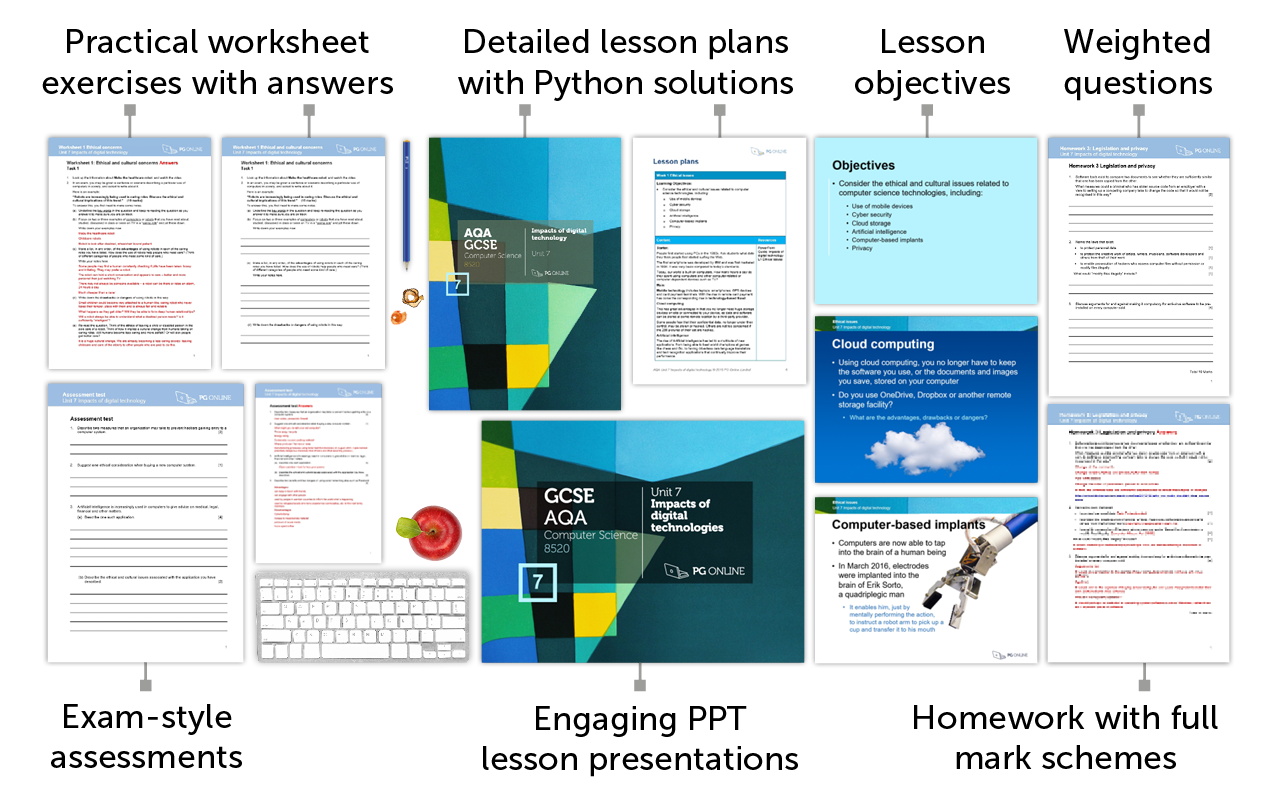 The GCSE units have been written to satisfy the specification for Paper 1 and Paper 2 of the AQA 8520 Computer Science GCSE. Each unit contains:
PowerPoint slides for each topic
Detailed lesson plans
Learning objectives and outcomes
Worksheets and homework activities with answers
End-of-unit, exam-style assessment test with answers
Other material and links to online resources
What people say...
"

"

We recently used some of the free resources in the sections we aim to purchase from you with our pupils and the feedback was very positive indeed. The information was pitched perfectly to our pupils, they enjoyed the content and the pace at which it can be delivered was spot on.

Andrew White. Head of Design Technology, Monmouth School for Boys
"

"

PG Online have identified an incredible opportunity for efficiency savings in the school system. The use of existing technologies, which teachers are likely to be familiar with, greatly reduces any potential for a digital gap to evolve.

The Judges. Reimagine Education Awards 2018
Relevant Textbooks
Inside the Unit...

Areas Covered

Lesson 1 Ethical issues
Lesson 2 Digital technology in society
Lesson 3 Legislation and privacy
Lesson 4 Assessment test

There are 3 worksheets, 3 homework tasks and relevant web links included in this unit.

How to order

1. Add individual units to a draft order or download a blank order form below to complete manually

2. Using a draft order you can either:

Save your order online
(registration or log in required)
Email us your complete order
(registration or log in required)
Create a PDF
(to fax or email at a later date)

Download blank order form

Unit Pricing and Discounts

Each unit is individually priced for LIFE. Please view each unit for detail. 

Discounts are cumulative based on the total of units licenced to your department.

All prices subject to further discounts and VAT.

There are no annual renewal fees.

| | |
| --- | --- |
| 2-5 units | 10% discount |
| 6-11 units | 15% discount |
| 12+ units | 20% discount |