2
Inside the Unit...

Areas Covered
Lesson 1 Data transmission
Lesson 2 Error checking and correction
Download free sample above
Lesson 3 Introduction to the internet

Lesson 4 Internet principles of operation
Lesson 5 Security aspects
Lesson 6 HTML structure and presentation
Lesson 7 Assessment
There are 6 worksheets, 5 homework tasks and an assessment test, each with answers included in this unit.
Summary - 2019 Edition
The unit is subdivided into six learning hours including an end-of-unit assessment spread across six lessons in order to fit with most school timetables. It is a theoretical unit covering section 1.2 of the Cambridge IGCSE® 0478 / 0984 and O Level 2210 Computer Science specification. The lessons cover data transmission and error detection with imaginative and engaging activities. The Internet is comprehensively covered with three lessons on its function, the principles of operation and key aspects of security. HTML structure and presentation is covered with a practical lesson to create a simple web page using HTML and CSS script. In the final lesson students sit an assessment test comprising questions similar to those found on the IGCSE exam paper.
What's included in the toolkit?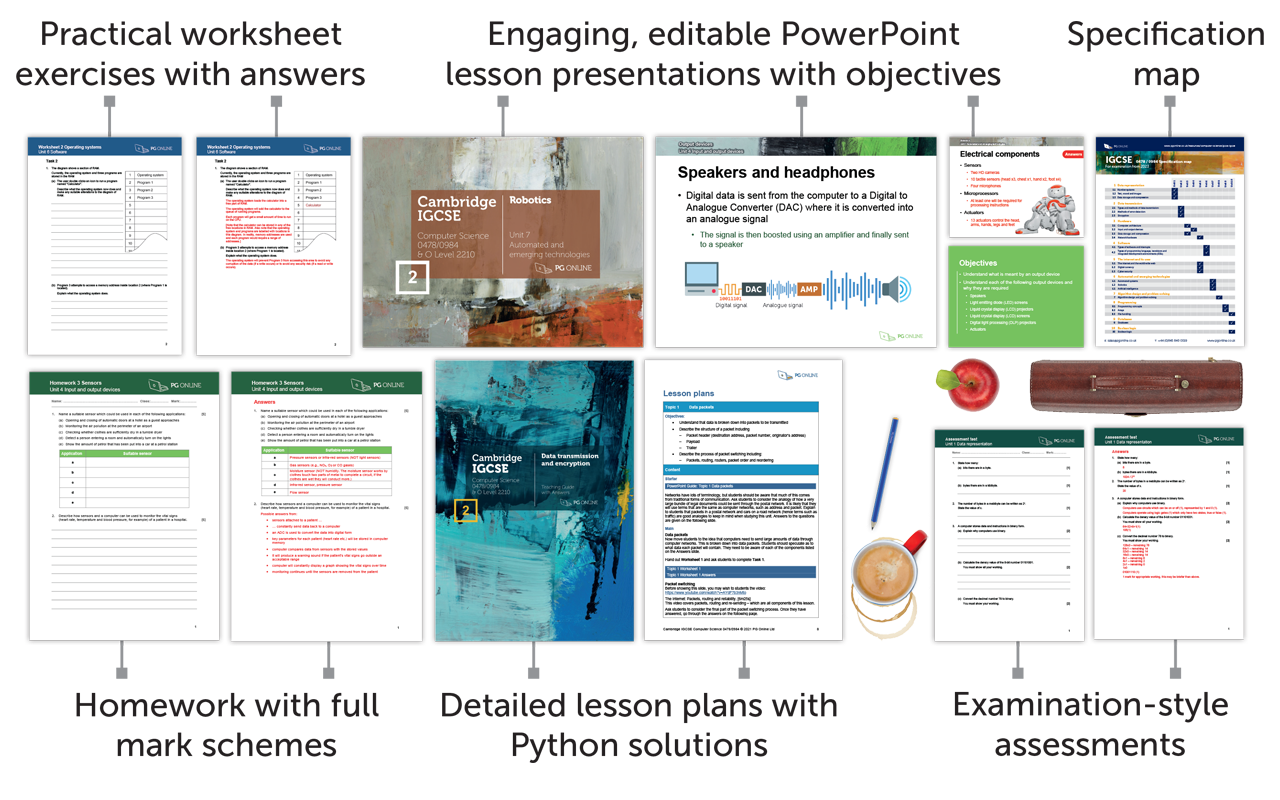 These units have been written to satisfy the specification for the theoretical Section 1 of the Cambridge IGCSE® 0478 and O Level 2210 Computer Science courses. Each unit contains:
PowerPoint slides for each lesson
Detailed lesson plans
Learning objectives and outcomes
Worksheets and homework activities with answers
End-of-unit Assessment test with answers
Other material and links to online resources
What people say...
"

"

Let me congratulate you on a fantastic, informative and easy to follow set of resources for Key Stages 3 to 5.

James Gardner. Head of Computer Science, Westcliff High School for Girls
"

"

The resources are concise, easily accessible to students and staff, and more importantly fun for the students.

Ian Cooper. Teacher of Computing, Academy 360
Inside the Unit...

Areas Covered

Lesson 1 Data transmission
Lesson 2 Error checking and correction
Download free sample above
Lesson 3 Introduction to the internet

Lesson 4 Internet principles of operation
Lesson 5 Security aspects
Lesson 6 HTML structure and presentation
Lesson 7 Assessment

There are 6 worksheets, 5 homework tasks and an assessment test, each with answers included in this unit.

How to order

1. Add individual units to a draft order or download a blank order form below to complete manually

2. Using a draft order you can either:

Save your order online
(registration or log in required)
Email us your complete order
(registration or log in required)
Create a PDF
(to fax or email at a later date)

Download blank order form

Pricing and Discounts

Each unit is individually priced for LIFE. Please view each unit for detail. 

Discounts are cumulative based on the total of units licenced to your department.

All prices subject to further discounts and VAT.

There are no annual renewal fees.

| | |
| --- | --- |
| 2-5 units | 10% discount |
| 6-11 units | 15% discount |
| 12+ units | 20% discount |