5
Inside the Unit...

Areas Covered
Lesson 1 Types of software
Lesson 2 Operating systems
Lesson 3 High and low level languages

Lesson 4 Keeping data safe
Download free sample above
Lesson 5 Threats to online data
Lesson 6 Online system security
Lesson 7 Assessment
There are 6 worksheets, 6 homework tasks and an assessment test, each with answers included in this unit.
Summary - 2019 Edition
The unit is subdivided into six learning hours spread across six lessons, plus a test, in order to fit with most school timetables. The test is provided with IGCSE® exam-style questions to assess understanding across all lessons in the unit. It is a theoretical unit covering the relevant sections 1.2 to 1.4 of the Cambridge IGCSE® 0478 / 0984 and O Level 2210 Computer Science specification.
The unit begins by covering the purpose and function of operating systems software including the need for interrupts. The distinction between freeware, shareware and free software is explained and the need for high- and low-level languages and the use of compilers and interpreters is covered in a third lesson. The final three lessons on security cover phishing, pharming and DoS attacks before looking at online data security and encryption. Firewalls, proxy servers and SSL and TLS security protocols are also covered. Real-life examples in worksheets and homework are used to cover all security aspects including online shopping, and banking. In the seventh lesson, students sit a final assessment test written in the style of real IGCSE exam-style questions.
What's included in the toolkit?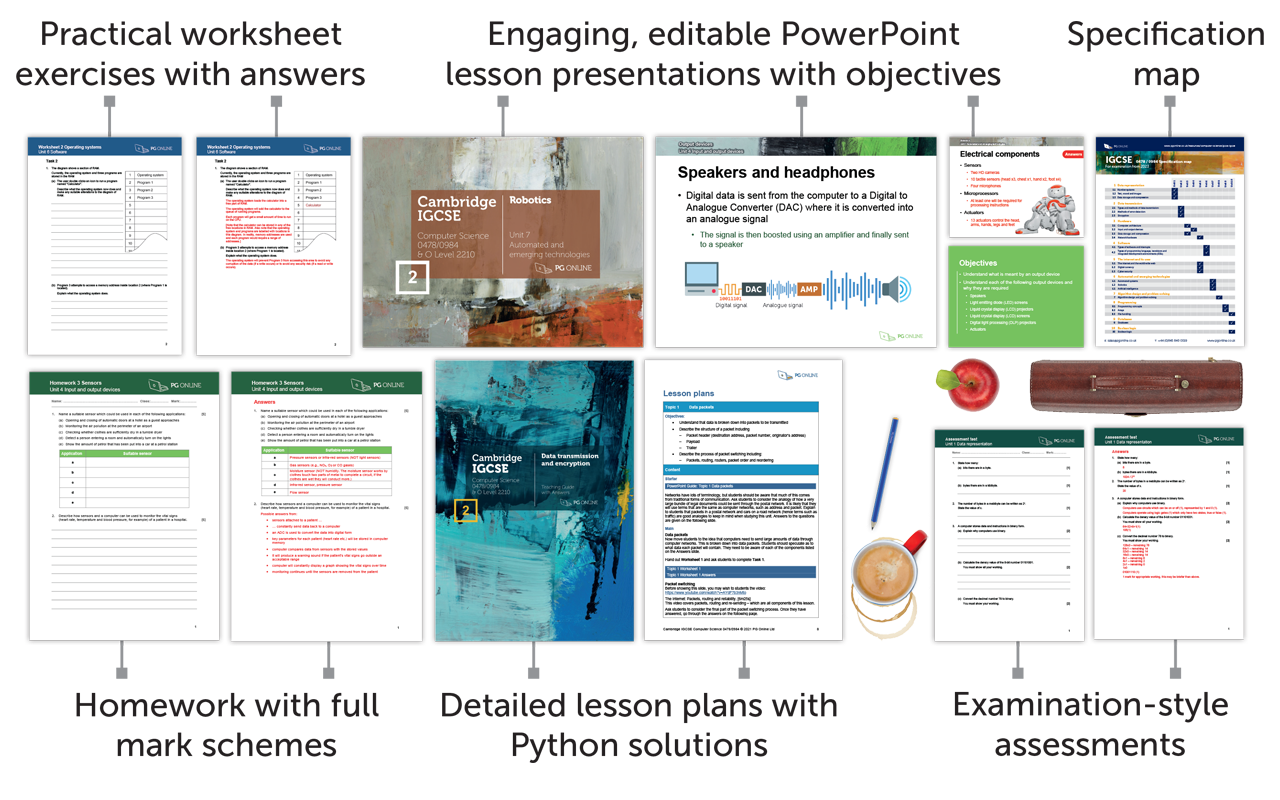 These units have been written to satisfy the specification for the theoretical Section 1 of the Cambridge IGCSE® 0478 and O Level 2210 Computer Science courses. Each unit contains:
PowerPoint slides for each lesson
Detailed lesson plans
Learning objectives and outcomes
Worksheets and homework activities with answers
End-of-unit Assessment test with answers
Other material and links to online resources
What people say...
"

"

Thank you for the resources we have used at Academy 360 this year. They have supported me and the Head of Computing to deliver this year's curriculum. The resources are concise, easily accessible to students and staff, and more importantly fun for the students.

Ian Cooper. Teacher of Computing, Academy 360
"

"

This is such a steep learning curve, but PG Online materials have been great and really support me and my students.

Mrs Julia Vale. Assistant Head Teacher, Court Moor School
Inside the Unit...

Areas Covered

Lesson 1 Types of software
Lesson 2 Operating systems
Lesson 3 High and low level languages

Lesson 4 Keeping data safe
Download free sample above
Lesson 5 Threats to online data
Lesson 6 Online system security
Lesson 7 Assessment

There are 6 worksheets, 6 homework tasks and an assessment test, each with answers included in this unit.

How to order

1. Add individual units to a draft order or download a blank order form below to complete manually

2. Using a draft order you can either:

Save your order online
(registration or log in required)
Email us your complete order
(registration or log in required)
Create a PDF
(to fax or email at a later date)

Download blank order form

Pricing and Discounts

Each unit is individually priced for LIFE. Please view each unit for detail. 

Discounts are cumulative based on the total of units licenced to your department.

All prices subject to further discounts and VAT.

There are no annual renewal fees.

| | |
| --- | --- |
| 2-5 units | 10% discount |
| 6-11 units | 15% discount |
| 12+ units | 20% discount |