6
Inside the Unit...

Areas Covered
Lesson 1 Copyright and plagiarism
Lesson 2 The spread of computer systems
Lesson 3 Issues of electronic communication
Lesson 4 Assessment
There are worksheets, homework tasks and an assessment test, each with answers included in this unit.
This is a free unit (full price £60)
Summary - 2019 Edition
This unit is FREE. You can order it via our online ordering system. No purchase order number is necessary.
The unit is subdivided into three learning hours spread across three lessons, plus a test, in order to fit with most school timetables. The test is provided with IGCSE® exam-style questions to assess understanding across all lessons in the unit. It is a theoretical unit covering the relevant sections of the Cambridge IGCSE® 0478 / 0984 and O Level 2210 Computer Science specification.
The ethical issues raised by the spread of electronic communication and computer systems in the modern world are covered through real world examples, with worksheets and homework questions. Legal, as well as ethical, and environmental considerations are covered throughout the unit. Some topics in section 1.5 Ethics of the syllabus including software types and hacking, cracking and malware are covered in greater detail in other units owing to duplication in the specification.
This is a short unit offered free of charge and can be accessed by ordering the unit in the normal way. A Purchase Order number is not required for this unit and you will not be invoiced. We will send you log in details to download the unit to your school network. Other units in the series are each six learning hours rather than three, plus a test.
What's included in the toolkit?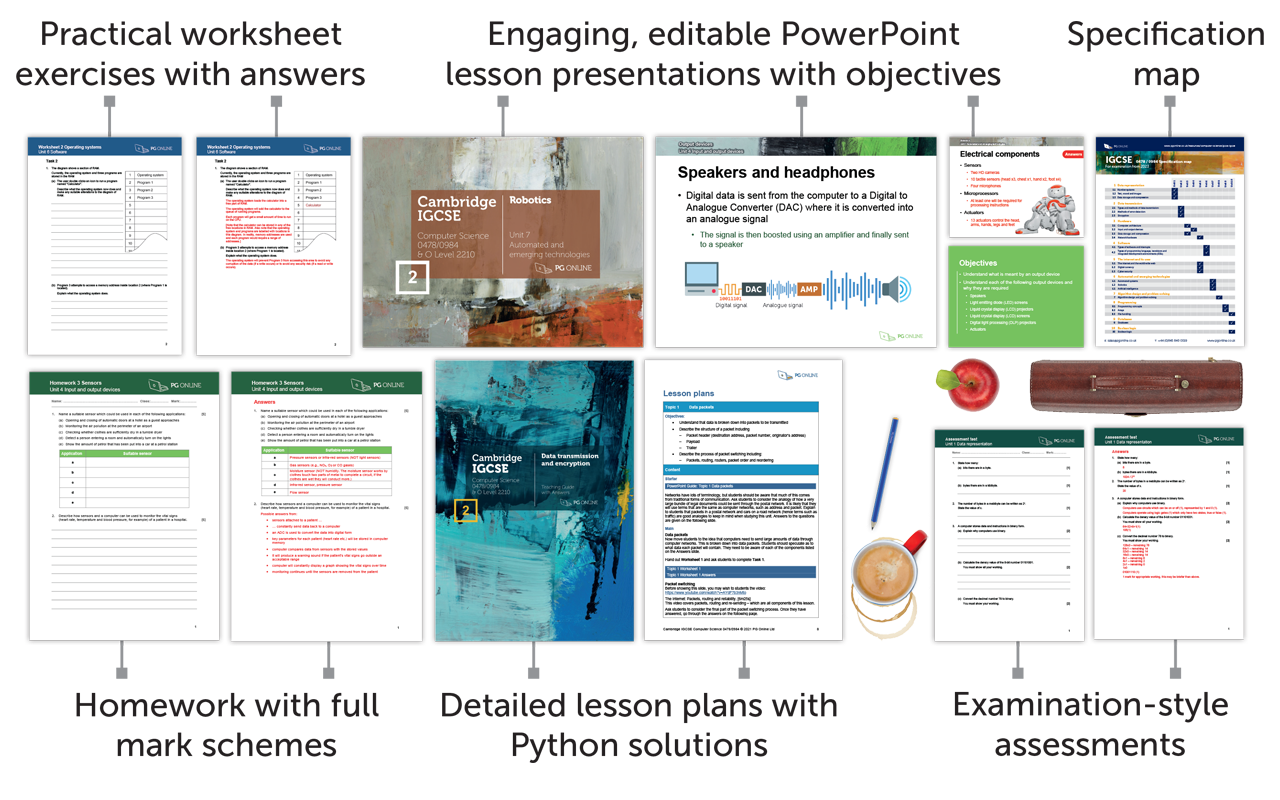 These units have been written to satisfy the specification for the theoretical Section 1 of the Cambridge IGCSE® 0478 and O Level 2210 Computer Science courses. Each unit contains:
PowerPoint slides for each lesson
Detailed lesson plans
Learning objectives and outcomes
Worksheets and homework activities with answers
End-of-unit Assessment test with answers
Other material and links to online resources
What people say...
"

"

Your resources are head and shoulders above the rest.

Kieren Reynolds. CAS Master teacher and teacher, Henry Beaufort School
"

"

The key strengths of the materials are in their simplicity - you have the content pupils need to know, simply, attractively presented and then a well designed worksheet to test it. The worksheets look excellent and very effective as a tool to cement the learning.

Dr Bruce Geddes. Head of Curriculum, British School Kuala Lumpur
Inside the Unit...

Areas Covered

Lesson 1 Copyright and plagiarism
Lesson 2 The spread of computer systems
Lesson 3 Issues of electronic communication
Lesson 4 Assessment

There are worksheets, homework tasks and an assessment test, each with answers included in this unit.

How to order

1. Add individual units to a draft order or download a blank order form below to complete manually

2. Using a draft order you can either:

Save your order online
(registration or log in required)
Email us your complete order
(registration or log in required)
Create a PDF
(to fax or email at a later date)

Download blank order form

Pricing and Discounts

Each unit is individually priced for LIFE. Please view each unit for detail. 

Discounts are cumulative based on the total of units licenced to your department.

All prices subject to further discounts and VAT.

There are no annual renewal fees.

| | |
| --- | --- |
| 2-5 units | 10% discount |
| 6-11 units | 15% discount |
| 12+ units | 20% discount |