7
Inside the Unit...

Areas Covered
Lesson 1 Algorithms and flowcharts
Download free sample above
Lesson 2 Selection
Lesson 3 Iteration

Lesson 4 Data types and arrays
Lesson 5 Testing
Lesson 6 Effectiveness of algorithms
Lesson 7 Assessment
There are 6 worksheets, 6 homework tasks, sample programs written in Python and an assessment test, each with answers included in this unit.
Summary - 2019 Edition
The unit is subdivided into six lessons and a final assessment test, each occupying approximately one hour in order to fit with most school timetables. It is one of two units which together cover all of the material in Section 2 Practical Problem-solving and Programming in the IGCSE® 0478 / 0984 and O Level 2210 Computer Science specifications, designed to teach students the knowledge and skills that they will need to tackle exam questions on topics in this section.
Ample practice in understanding and designing algorithms written in pseudocode or using flowcharts, debugging and testing is given in worksheets and homeworks. The unit is independent of any particular programming language but a basic knowledge and practical experience of programming in a language such as Python, Delphi or Small Basic will be useful and could be taught in practical sessions in parallel with this unit.
What's included in the toolkit?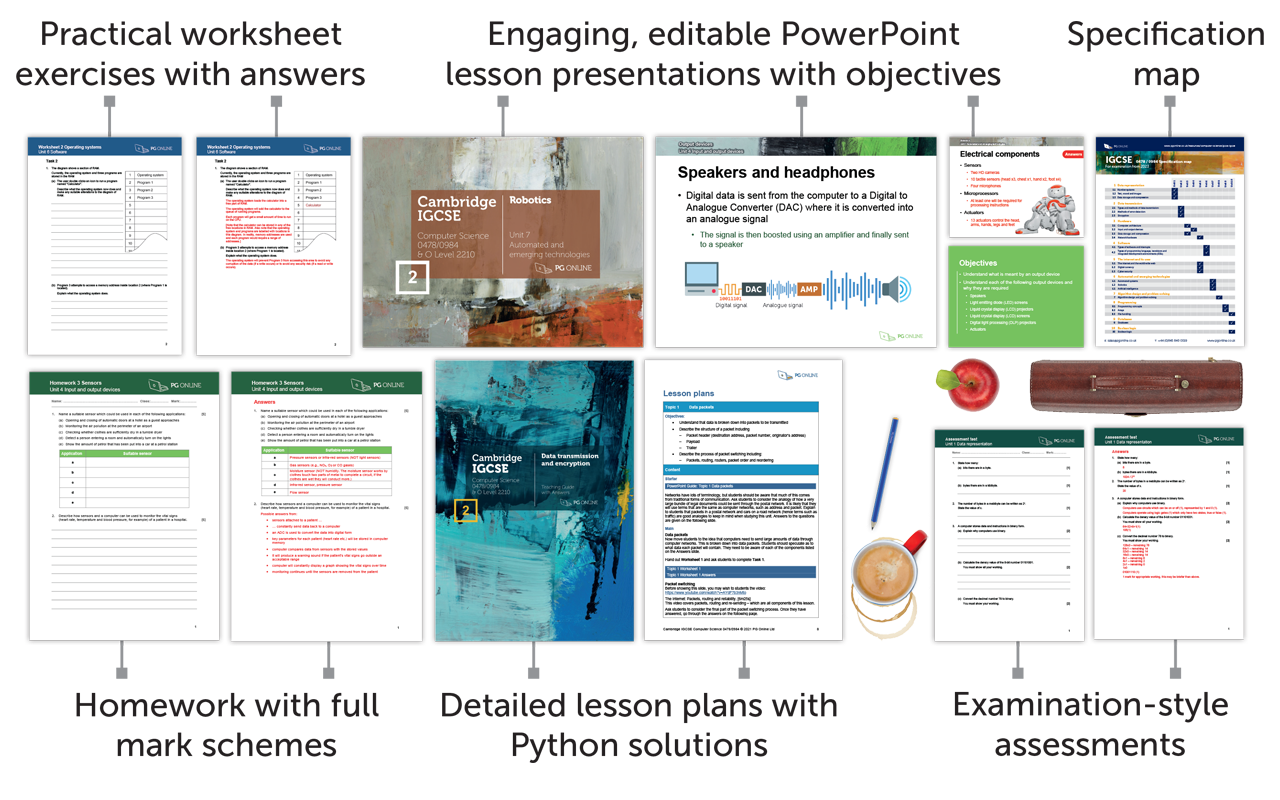 These units have been written to satisfy the specification for the theoretical Section 1 of the Cambridge IGCSE® 0478 and O Level 2210 Computer Science courses. Each unit contains:
PowerPoint slides for each lesson
Detailed lesson plans
Learning objectives and outcomes
Worksheets and homework activities with answers
End-of-unit Assessment test with answers
Demonstration programs written in Python
Other material and links to online resources
What people say...
"

"

You have done a great job!! The resources are great and students find them very easy to understand and follow!

Robinson Zapata. Leader of ICT, Richard Challoner School
"

"

Great set of resources for teachers, that fully engage the student. Your resources just work!

Andrew Clarke. Head of Computer Science, Holbrook Academy
Inside the Unit...

Areas Covered

Lesson 1 Algorithms and flowcharts
Download free sample above
Lesson 2 Selection
Lesson 3 Iteration

Lesson 4 Data types and arrays
Lesson 5 Testing
Lesson 6 Effectiveness of algorithms
Lesson 7 Assessment

There are 6 worksheets, 6 homework tasks, sample programs written in Python and an assessment test, each with answers included in this unit.

How to order

1. Add individual units to a draft order or download a blank order form below to complete manually

2. Using a draft order you can either:

Save your order online
(registration or log in required)
Email us your complete order
(registration or log in required)
Create a PDF
(to fax or email at a later date)

Download blank order form

Pricing and Discounts

Each unit is individually priced for LIFE. Please view each unit for detail. 

Discounts are cumulative based on the total of units licenced to your department.

All prices subject to further discounts and VAT.

There are no annual renewal fees.

| | |
| --- | --- |
| 2-5 units | 10% discount |
| 6-11 units | 15% discount |
| 12+ units | 20% discount |