8
Inside the Unit...

Areas Covered
Lesson 1 Computer systems
Download sample lesson above
Lesson 2 Top down design
Lesson 3 Validation and verification
Lesson 4 Designing a database table

Lesson 5 Querying a database
Lesson 6 Assessment
There are 6 worksheets, 6 homework tasks and an assessment test, each with answers included in this unit.
Summary - 2019 Edition
The unit is subdivided into six learning hours spread across six lessons, plus a test, in order to fit with most school timetables. The test is provided with exam-style questions to assess understanding across all lessons in the unit. It is a theoretical unit covering the relevant sections of the Cambridge IGCSE® Computer Science specification 0478 / 0984 and the O Level 2210 specification.
This Unit builds on the fundamentals covered in the PG Online KS3 unit on Understanding Computers, (although understanding of this unit is not required), and then extends this knowledge to a level sufficient for examination purposes. The unit starts with two lessons on logic diagrams, logic statements and truth tables. In the next three lessons, students learn about the CPU and the many forms of memory available in modern computers including RAM and ROM. Secondary storage and their uses are covered.
What's included in the toolkit?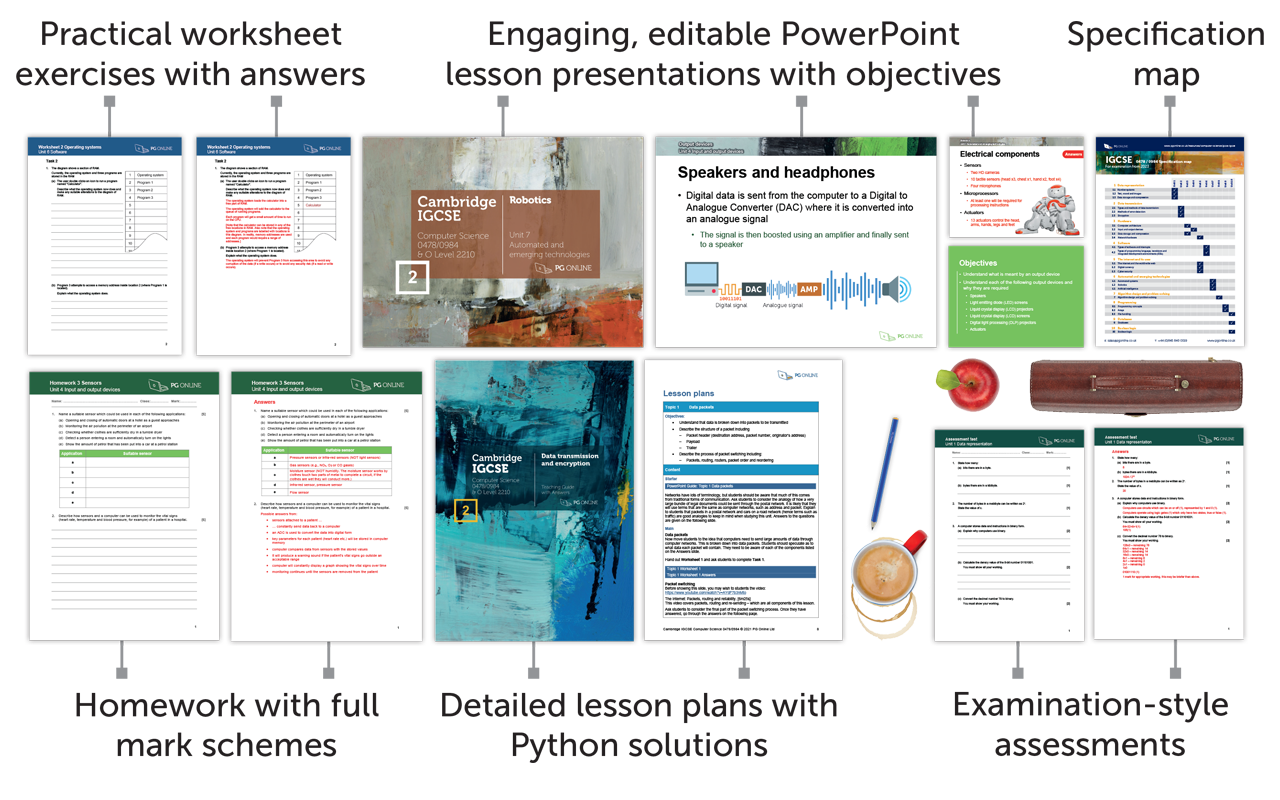 These units have been written to satisfy the specification for the theoretical Section 1 of the Cambridge IGCSE® 0478 and O Level 2210 Computer Science courses. Each unit contains:
PowerPoint slides for each lesson
Detailed lesson plans
Learning objectives and outcomes
Worksheets and homework activities with answers
End-of-unit Assessment test with answers
Other material and links to online resources
What people say...
"

"

I have just ordered two extra units as the resources that we purchased from you in April are brilliant and the kids love using them.

Katherine Hobbs. Head of Digital Technology, Petersfield School
"

"

PG Online resources are very well planned and easy to use. Inspection copies are also useful as this enables me to make better choices with our limited budgets.

Gillian Broadhead. ACTL Creative and Technical Studies, Ridgewood High School
Inside the Unit...

Areas Covered

Lesson 1 Computer systems
Download sample lesson above
Lesson 2 Top down design
Lesson 3 Validation and verification
Lesson 4 Designing a database table

Lesson 5 Querying a database
Lesson 6 Assessment

There are 6 worksheets, 6 homework tasks and an assessment test, each with answers included in this unit.

How to order

1. Add individual units to a draft order or download a blank order form below to complete manually

2. Using a draft order you can either:

Save your order online
(registration or log in required)
Email us your complete order
(registration or log in required)
Create a PDF
(to fax or email at a later date)

Download blank order form

Pricing and Discounts

Each unit is individually priced for LIFE. Please view each unit for detail. 

Discounts are cumulative based on the total of units licenced to your department.

All prices subject to further discounts and VAT.

There are no annual renewal fees.

| | |
| --- | --- |
| 2-5 units | 10% discount |
| 6-11 units | 15% discount |
| 12+ units | 20% discount |