4
Inside the Unit...
Areas Covered
Lesson 1 Ethical and cultural issues
Lesson 2 Computer systems in the modern world
Lesson 3 Legislation and privacy
Lesson 4 Assessment
There are 3 worksheets, 3 homework tasks, and an assessment test, each with answers included in this unit.
This is a free unit (full price £60)
Summary
This free unit is subdivided into three learning hours plus an end of unit assessment. It is a theoretical unit covering the OCR GCSE Computer Science specification section 1.8. It begins by describing excellent examples of ethical, cultural and environmental considerations in relation to selected Computer Science technologies. The unit continues to focus on licencing and specific legislation related to Computer Science.
None of the lessons requires access to a computer and as such, they may be useful as "backup lessons" when the school network is down or unavailable for some reason. Each lesson is standalone and can be delivered at any convenient point in the course, or used as a revision lesson.
This unit is free of charge and can be accessed by ordering the unit in the normal way. A Purchase Order number is not required for this unit and you will not be invoiced. We will send you log in details to download the unit to your school network.
What's included in the toolkit?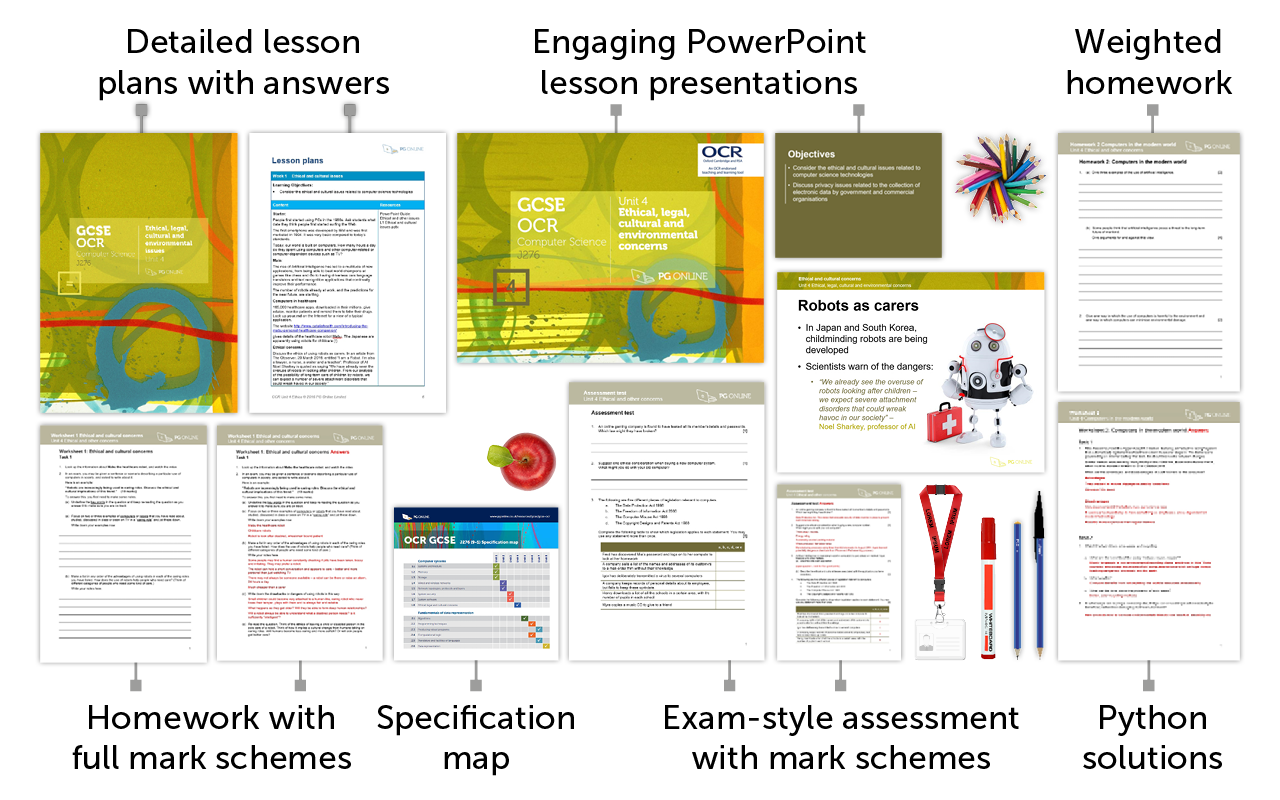 The GCSE units have been written to satisfy the specification for the theoretical Component 1 Computer systems of the new OCR J276 Computing GCSE. Each unit contains:
PowerPoint slides for each lesson
Detailed lesson plans
Learning objectives and outcomes
Worksheets and homework activities with answers
End-of-unit Assessment test with answers
Other material and links to online resources
Relevant Textbooks
Inside the Unit...
Areas Covered

Lesson 1 Ethical and cultural issues
Lesson 2 Computer systems in the modern world
Lesson 3 Legislation and privacy
Lesson 4 Assessment

There are 3 worksheets, 3 homework tasks, and an assessment test, each with answers included in this unit.

How to order

1. Add individual units to a draft order or download a blank order form below to complete manually

2. Using a draft order you can either:

Save your order online
(registration or log in required)
Email us your complete order
(registration or log in required)
Create a PDF
(to fax or email at a later date)

Download blank order form

Pricing and Discounts

Each unit is individually priced for LIFE. Please view each unit for detail. 

Discounts are cumulative based on the total of units licenced to your department.

All prices subject to further discounts and VAT.

There are no annual renewal fees.

| | |
| --- | --- |
| 2-5 units | 10% discount |
| 6-11 units | 15% discount |
| 12+ units | 20% discount |