6
Inside the Unit...

Areas Covered
Lesson 1 Programming concepts
Download sample lesson above
Lesson 2 Program control flow (Sequence and selection)
Lesson 3 Iteration
Lesson 4 Arrays
Lesson 5 Functions and procedures
Lesson 6 Records and files
Lesson 7 SQL
Lesson 8 Assessment
There are 7 worksheets, 6 homework tasks, and an assessment test, each with answers included in this unit.
Summary
This programming unit covers the theoretical aspects of Section 2.2 and 2.4 of the OCR GCSE Computer Science specification, covering all the knowledge and skills that students will need to tackle exam questions on related topics. The basic programming constructs are covered as well as string manipulation and file handling. Computational logic is covered in a fourth lesson, before examining the use of functions and procedures to structure code. Finally, records and the use of SQL to search for data are covered. The unit is independent of any particular programming language but a basic knowledge and practical experience of programming in a language such as Python, Delphi or Small Basic is assumed.
What's included in the toolkit?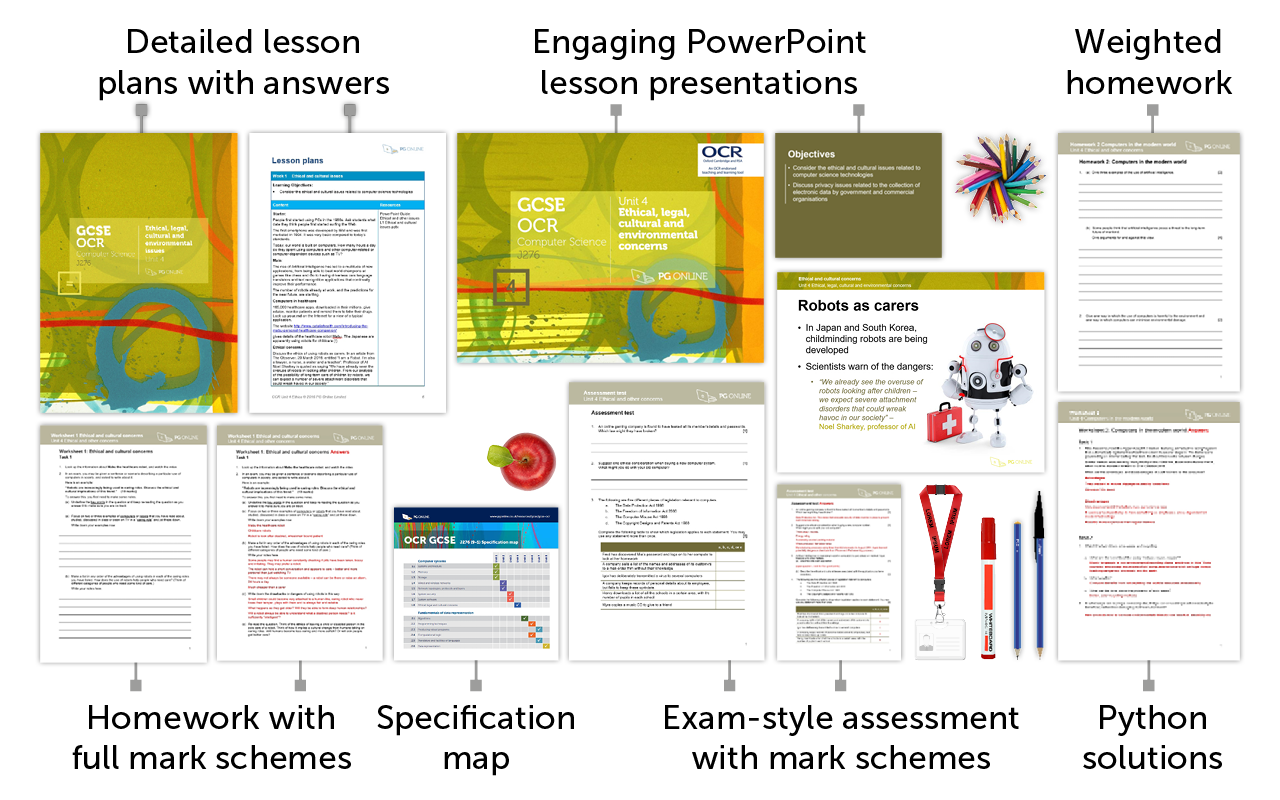 The GCSE units have been written to satisfy the specification Component 2 Computational thinking, algorithms and programming of the new OCR J276 Computing GCSE. Each unit contains:
PowerPoint slides for each lesson
Detailed lesson plans
Learning objectives and outcomes
Worksheets and homework activities with answers
End-of-unit Assessment test with answers
Other material and links to online resources
What people say...
"

"

Lots of questions to gauge pupils understanding, great real life links with the slides, short pieces of info on each slide

Abigail Alexander. Science teacher, Lutterworth College
"

"

The content was outstanding at supporting Higher level students

Bethan Atkins. Science teacher, Lutterworth College
Relevant Textbooks
Inside the Unit...

Areas Covered

Lesson 1 Programming concepts
Download sample lesson above
Lesson 2 Program control flow (Sequence and selection)
Lesson 3 Iteration
Lesson 4 Arrays
Lesson 5 Functions and procedures
Lesson 6 Records and files
Lesson 7 SQL
Lesson 8 Assessment

There are 7 worksheets, 6 homework tasks, and an assessment test, each with answers included in this unit.

How to order

1. Add individual units to a draft order or download a blank order form below to complete manually

2. Using a draft order you can either:

Save your order online
(registration or log in required)
Email us your complete order
(registration or log in required)
Create a PDF
(to fax or email at a later date)

Download blank order form

Pricing and Discounts

Each unit is individually priced for LIFE. Please view each unit for detail. 

Discounts are cumulative based on the total of units licenced to your department.

All prices subject to further discounts and VAT.

There are no annual renewal fees.

| | |
| --- | --- |
| 2-5 units | 10% discount |
| 6-11 units | 15% discount |
| 12+ units | 20% discount |