=
MS Word Beyond the Basics - Exercise documents
This free pack contains a complete set of working documents for use with each chapter in the textbook.
What people say...
"

"

Our students used evaluation copies (from several companies) to choose their books. Your clear writing style and presentation was the outstanding favourite with the students.

Ms Paula Bailey. Teacher of Computer Science, Herschel Grammar School
"

"

Thank you for all your help. I have nothing but good things to say about PG Online. It's been a massive time saver.

Sam Moses. Teacher of Computing, Tibshelf Community School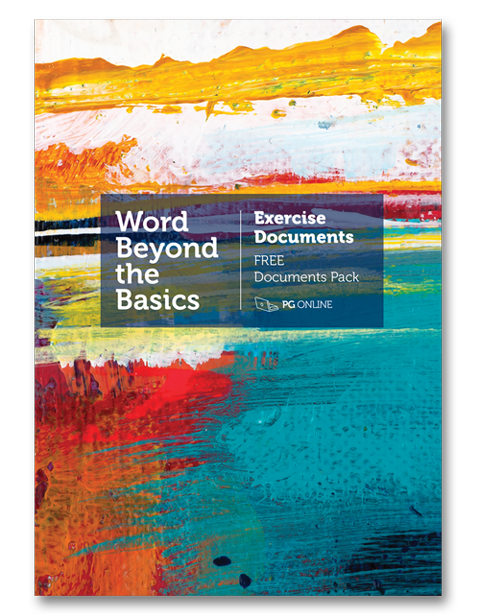 You can learn the skills in the Word Beyond the Basics book using your own files or those contained in this free pack.

This pack is available as a free download.

How to order

1. Add individual units to a draft order or download a blank order form below to complete manually

2. Using a draft order you can either:

Save your order online
(registration or log in required)
Email us your complete order
(registration or log in required)
Create a PDF
(to fax or email at a later date)

Download blank order form

Pricing and Discounts

Lifetime site licence
GCSE units are individually priced
Discount for 2-5 units 10%
Discount for 6-12 units 15%
Discount for 12+ units 20%
Budget plans are available. There are no annual renewal fees.