+
MS Word Beyond the Basics
Available now in printed paperback format, or as a digital subscription edition
Publication April 9th 2018
MS Word is one of the most useful applications for anyone who uses a computer in their studies, at work or at home. However, a great many people have never been taught the best or most efficient way of performing simple tasks like creating a neat list in columns, placing images exactly where they want them or quickly changing text styles throughout a document. Additionally, many users struggle to adapt to newer versions of Word, and need help learning the best ways of doing familiar tasks or using new facilities introduced in Word
2013 and subsequent versions.
This book assumes that you know the basics of how to create and edit a simple document, and shows you how to do much, much more. The mysteries of the tabs and ribbon interface used in Word 2013 and Word 2016 are laid bare and you will soon find you can do all you wanted and more in a fraction of the time it took before.
It really is all very simple once it's explained!
A free pack containing all the exercise documents to be used while working through each short chapter is available to download from our website.
What people say...
"

"

I received your sample copy today and took the opportunity to show it [to my outgoing] A2 students.

They said they liked the Layout and use of colour – compatible with the other textbooks they like, and they quickly found the Edward Snowden and NSA sections and were very engaged in the opposing arguments on each.

I liked the use of pseudo-code.

Juan Alvarez Zafra. Mathematics and Computing Department, St Brendan's College
"

"

PG service is as slick as polished weasel grease!

Gavin Nuttall-Owen. Head of Computer Science, Bishop Fox's School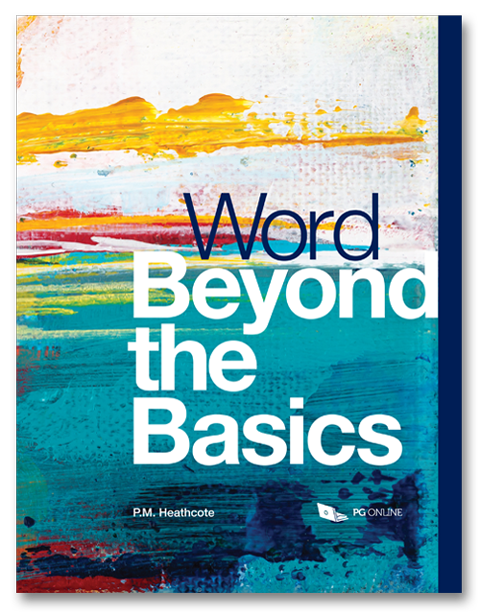 Contents:

Chapter 1: Getting started
Chapter 2: Editing a document
Chapter 3: Styles and formatting
Chapter 4: Tabs and lists
Chapter 5: Inserting images
Chapter 6: Inserting shapes
Chapter 7: Tables
Chapter 8: Special symbols and equations
Chapter 9: Long documents
Chapter 10: Templates and fillable forms

The accompanying Exercise documents pack is available as a free download.

How to order

1. Add individual units to a draft order or download a blank order form below to complete manually

2. Using a draft order you can either:

a) Create a PDF
(to fax or email at a later date)

b) Save your order online
(registration or log in required)

c) Email us your complete order
(registration or log in required)

Download blank order form

Pricing and Discounts

Lifetime site licence for:
1 KS3 unit £120 + VAT
GCSE & IGCSE units are individually priced
A Level units are individually priced
Discount for 2-5 units 10%
Discount for 6-11 units 15%
Discount for 12 or more units 20%
Budget plans are available. There are no annual renewal fees.