2
Inside the Unit...
Areas Covered
Topic 1 The Periodic Table and its development
Topic 2 The modern Periodic Table
Download sample topic above
Topic 3 Group 1 - The alkali metals
Topic 4 Group 7 - The halogens
Topic 5 Group 0 - The noble gases
Topic 6 Properties of transition metals *
Topic 7 Unifying principles
Unit Assessment
There are 7 worksheets, 7 homework tasks, and an examination-style assessment test, each with answers included in this unit.
* These topics contain content suitable for separate Chemistry students only.
Summary
Each topic is designed for teaching over roughly 1-2 lessons.
This unit delves deeper into the understanding of chemical elements introduced at Key Stage 3, looking at how elements are grouped into families based on their similar chemical behaviour. The unit also takes students on a fascinating journey through time to study how the periodic table has evolved, what were the key thoughts and who were the key 'thinkers' in forging its present-day form. A focus on the highly reactive elements in groups 1 and 7 of the periodic table is presented with well thought-through examples that bring this fascinating aspect of chemistry to life.  The elements in group 0 are compared and contrasted with those in the other main groups, answering some of the fundamental questions regarding their remarkable chemical inactivity.  The unit then moves on to have a brief look at the transition metals, both in terms of their unique properties and their differences when compared to main group elements, particularly those in group 1. The final topic brings together many of the key skills in this essential unit, particularly the ability to interpret information from the periodic table in terms of electronic structure and structure and bonding.
The complete series covers the AQA GCSE (9-1) Chemistry 8462 and combined science (Trilogy) 8464 specifications for Chemistry. Content relating to the separate Chemistry specification or Higher level material is indicated throughout for easy identification.
What's included in the toolkit?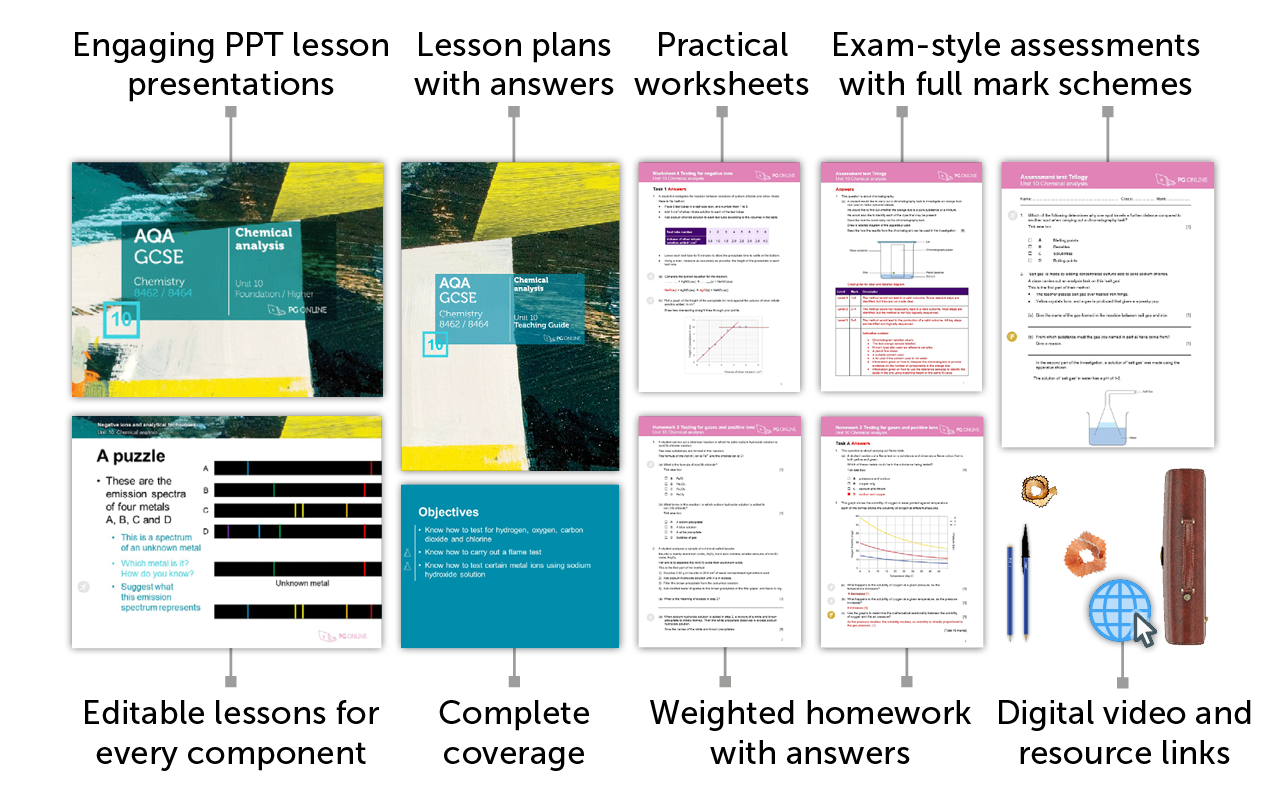 The GCSE units have been written to satisfy the specification for the separate Chemistry 8462 and Trilogy 8464 specification for the new AQA 9-1 GCSEs. Each unit contains:
PowerPoint slides for each topic
Detailed lesson plans
Learning objectives and outcomes
Worksheets and homework activities with answers
End-of-unit, exam-style assessment test with answers
Other material and links to online resources
What people say...
"

"

A generation ahead of everything else. Perfect resources to give to non-specialists to deliver lessons with authority.

Don Jones. Assistant Principal: Achievement and Data, Ormiston Chadwick Academy
"

"

I am so impressed with the resources I received for the BTEC DIT. Never have I come across bought-in resources like these!!

I can now chill out over the summer!

Marvin Richardson-Grubb. Teacher of Computer Science and Business, Writhlington School
Inside the Unit...
Areas Covered

Topic 1 The Periodic Table and its development
Topic 2 The modern Periodic Table
Download sample topic above
Topic 3 Group 1 - The alkali metals
Topic 4 Group 7 - The halogens
Topic 5 Group 0 - The noble gases
Topic 6 Properties of transition metals *
Topic 7 Unifying principles
Unit Assessment

There are 7 worksheets, 7 homework tasks, and an examination-style assessment test, each with answers included in this unit.

* These topics contain content suitable for separate Chemistry students only.

How to order

1. Add individual units to a draft order or download a blank order form below to complete manually

2. Using a draft order you can either:

Save your order online
(registration or log in required)
Email us your complete order
(registration or log in required)
Create a PDF quote
(to fax or email at a later date)

Download blank order form

Unit Pricing and Discounts

Each unit is individually priced for LIFE. Please view each unit for detail. 

Discounts are cumulative based on the total of units licenced to your department.

All prices subject to further discounts and VAT.

There are no annual renewal fees.

| | |
| --- | --- |
| 2-5 units | 10% discount |
| 6-9 units | 15% discount |
| 10+ units | 20% discount |