5
Inside the Unit...

Areas Covered
Topic 1 The reactivity series
Topic 2 Extracting metals
Topic 3 Acids and alkalis
Download sample topic above
Topic 4 Reactions of acids
Topic 5 Making salts
Topic 6 Strong and weak acids *
Unit Assessment
There are 6 worksheets, 6 homework tasks, and an examination-style assessment test, each with answers included in this unit.
* These topics contain content suitable for separate Chemistry students only.
Summary
Each topic is designed for teaching over roughly 1-2 lessons.
Chemical change is a fundamental aspect to the understanding of chemistry, and this unit focuses on many of the key reaction types that underpin a sound understanding of this fascinating science.  Reaction types are studied as individual and beautifully illustrated 'themes' throughout the unit, with each type being introduced within an interesting context. Topics begin by looking at displacement reactions and using the reactivity series – both ideas met at Key Stage 3 – with these ideas being extended and applied to both the familiar, and more importantly, the unfamiliar in terms of their chemical context. The idea of redox reactions involving a transfer of electrons provides a step up from simple oxygen transfer that would have been met previously. Reactions of acids with metals, metal oxides and metal hydroxides may also be familiar to students, but the interpretation of these reactions in terms of proton or hydrogen ion transfer will be new and inspiring. The unit concludes with a study of how salts can be made in the laboratory, with particular focus on experimental technique and method.
The complete series covers the AQA GCSE (9-1) Chemistry 8462 and combined science (Trilogy) 8464 specifications for Chemistry. Content relating to the separate Chemistry specification or Higher level material is indicated throughout for easy identification.
What's included in the toolkit?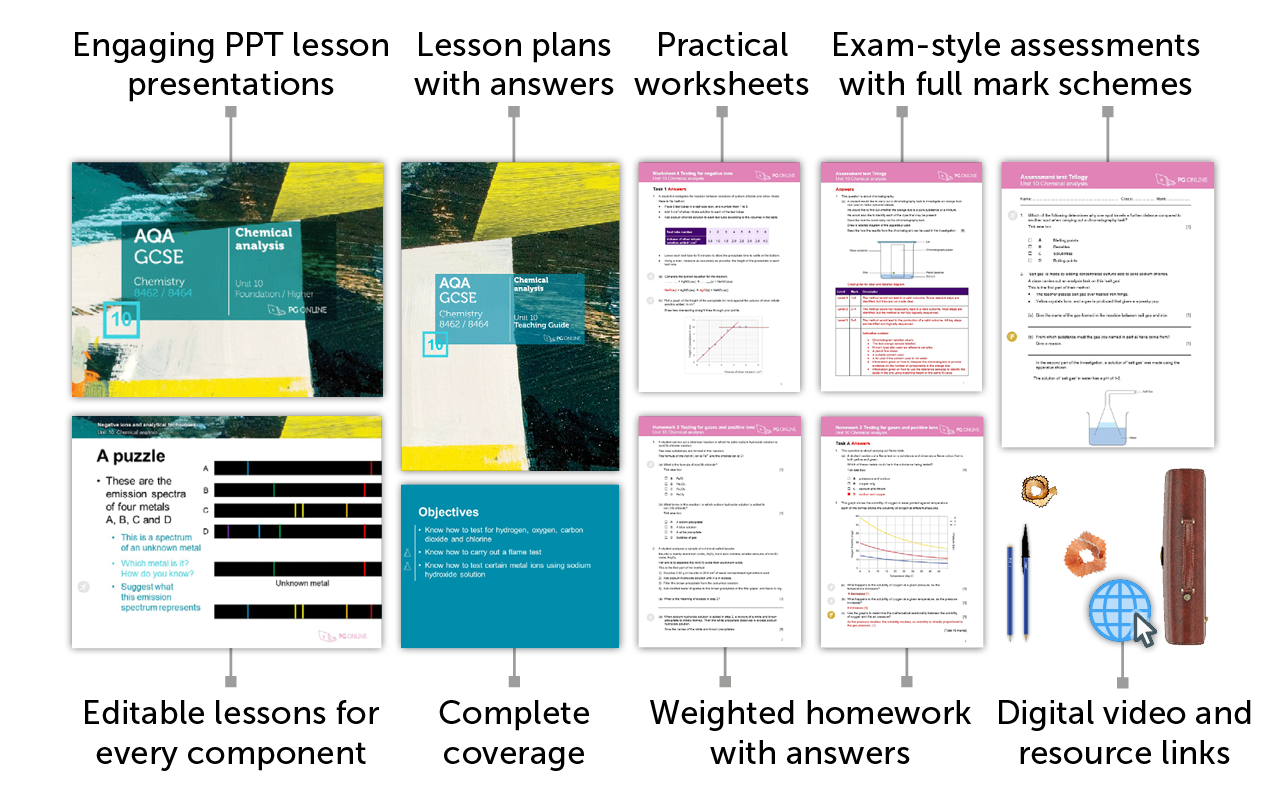 The GCSE units have been written to satisfy the specification for the separate Chemistry 8462 and Trilogy 8464 specification for the new AQA 9-1 GCSEs. Each unit contains:
PowerPoint slides for each topic
Detailed lesson plans
Learning objectives and outcomes
Worksheets and homework activities with answers
End-of-unit, exam-style assessment test with answers
Other material and links to online resources
What people say...
"

"

A fantastic set of resources to support both teachers and students in the delivery of the new computing curriculum. We would be lost without it.

Catherine Williams. Head of Department, St Bede's Inter-Church School
"

"

This is such a steep learning curve, but PG Online materials have been great and really support me and my students.

Mrs Julia Vale. Assistant Head Teacher, Court Moor School
Inside the Unit...

Areas Covered

Topic 1 The reactivity series
Topic 2 Extracting metals
Topic 3 Acids and alkalis
Download sample topic above
Topic 4 Reactions of acids
Topic 5 Making salts
Topic 6 Strong and weak acids *
Unit Assessment

There are 6 worksheets, 6 homework tasks, and an examination-style assessment test, each with answers included in this unit.

* These topics contain content suitable for separate Chemistry students only.

How to order

1. Add individual units to a draft order or download a blank order form below to complete manually

2. Using a draft order you can either:

Save your order online
(registration or log in required)
Email us your complete order
(registration or log in required)
Create a PDF quote
(to fax or email at a later date)

Download blank order form

Unit Pricing and Discounts

Each unit is individually priced for LIFE. Please view each unit for detail. 

Discounts are cumulative based on the total of units licenced to your department.

All prices subject to further discounts and VAT.

There are no annual renewal fees.

| | |
| --- | --- |
| 2-5 units | 10% discount |
| 6-9 units | 15% discount |
| 10+ units | 20% discount |