8
Inside the Unit...

Areas Covered
Topic 1 Crude oil and its composition
Download free lesson above
Topic 2 Properties of hydrocarbons *
Topic 3 Fractional distillation of crude oil
Topic 4 Cracking hydrocarbons and alkenes
Topic 5 Unifying principles*
Unit Assessment
There are 5 worksheets, 5 homework tasks, and an examination-style assessment test, each with answers included in this unit.
* These topics contain content suitable for separate Chemistry students only.
Cracking hydrocarbons and alkenes
Summary
Each topic is designed for teaching over roughly 1-2 lessons.
Crude oil continues to play a crucial role in our lives, and this unit illustrates some of the key properties and uses of its highly important and essential-to-life components. The unit emphasises and consolidates the understanding of the molecular form at the outset of this unit, as many students confuse terms like 'atom', 'ion' and 'molecule'. Once the various properties of molecules are understood, the unit then applies this understanding within the context of the hydrocarbons present in crude oil.
The unit studies the composition of crude oil through to its separation into fractions, and thereafter into an individual study of the alkanes, as the starting point for gaining an understanding of the properties of molecules in an homologous series. The unit then moves onto the alkenes as a different homologous series from the alkanes, together with a consideration of the cracking process.
The complete series covers the AQA GCSE (9-1) Chemistry 8462 and combined science (Trilogy) 8464 specifications for Chemistry. Content relating to the separate Chemistry specification or Higher level material is indicated throughout for easy identification.
What's included in the toolkit?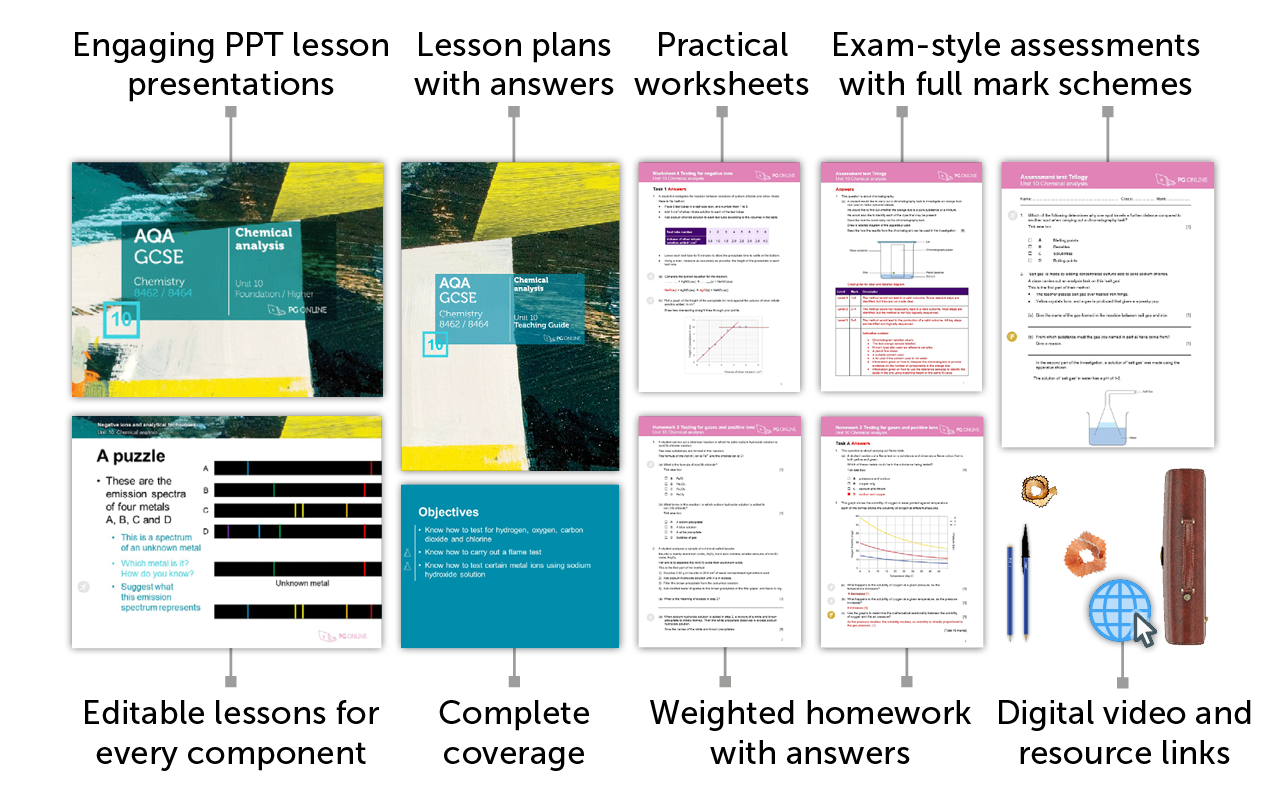 The GCSE units have been written to satisfy the specification for the separate Chemistry 8462 and Trilogy 8464 specification for the new AQA 9-1 GCSEs. Each unit contains:
PowerPoint slides for each topic
Detailed lesson plans
Learning objectives and outcomes
Worksheets and homework activities with answers
End-of-unit, exam-style assessment test with answers
Other material and links to online resources
What people say...
"

"

Lots of questions to gauge pupils understanding, great real life links with the slides, short pieces of info on each slide.

Abigail Alexander. Science teacher, Lutterworth College
"

"

Professional looking resources that would enable consistency within the department and the use of worksheet and homework task that comprehensively covered the spec points.

Helen Webb. Science teacher, Lutterworth College
Inside the Unit...

Areas Covered

Topic 1 Crude oil and its composition
Download free lesson above
Topic 2 Properties of hydrocarbons *
Topic 3 Fractional distillation of crude oil
Topic 4 Cracking hydrocarbons and alkenes
Topic 5 Unifying principles*
Unit Assessment

There are 5 worksheets, 5 homework tasks, and an examination-style assessment test, each with answers included in this unit.

* These topics contain content suitable for separate Chemistry students only.

Cracking hydrocarbons and alkenes

How to order

1. Add individual units to a draft order or download a blank order form below to complete manually

2. Using a draft order you can either:

Save your order online
(registration or log in required)
Email us your complete order
(registration or log in required)
Create a PDF quote
(to fax or email at a later date)

Download blank order form

Unit Pricing and Discounts

Each unit is individually priced for LIFE. Please view each unit for detail. 

Discounts are cumulative based on the total of units licenced to your department.

All prices subject to further discounts and VAT.

There are no annual renewal fees.

| | |
| --- | --- |
| 2-5 units | 10% discount |
| 6-9 units | 15% discount |
| 10+ units | 20% discount |