7
Inside the Unit...

Areas Covered
Topic 1 Calculating the rate of reaction
Topic 2 Factors affecting the rate of reaction
Topic 3 Collision theory
Topic 4 Catalysts
Download free topic above
Topic 5 Reversible reactions and equilibrium
Topic 6 Changing conditions - Concentration
Topic 7 Changing conditions - Temperature and pressure
Unit Assessment
There are 7 worksheets, 7 homework tasks, and an examination-style assessment test, each with answers included in this unit.
Summary
Each topic is designed for teaching over roughly 1-2 lessons.
This unit considers two highly important topics in the area of physical chemistry – rates of reaction and chemical equilibria. This unit builds on an understanding that some chemical reactions are fast and some are considerably slower. Experimental work is presented as an essential method for monitoring the rate of a chemical reaction, with time devoted to the planning of such experiments, and the analysis and interpretation of the results. From factors that affect the rate of reaction including the role of activation energy when explaining the effect temperature on rate, to the world of catalysts, this unit illustrates the topic with thoughtful and carefully selected examples. The second phase of the unit concentrates on reversible reactions, and how these may attain a state of chemical equilibrium. The link between these two aspects is carefully explored and discussed. The final part of the unit concentrates on how to change the position of equilibrium by altering external conditions – a fascinating and challenging way to conclude this particular topic.
The complete series covers the AQA GCSE (9-1) Chemistry 8462 and combined science (Trilogy) 8464 specifications for Chemistry. Content relating to the separate Chemistry specification or Higher level material is indicated throughout for easy identification.
What's included in the toolkit?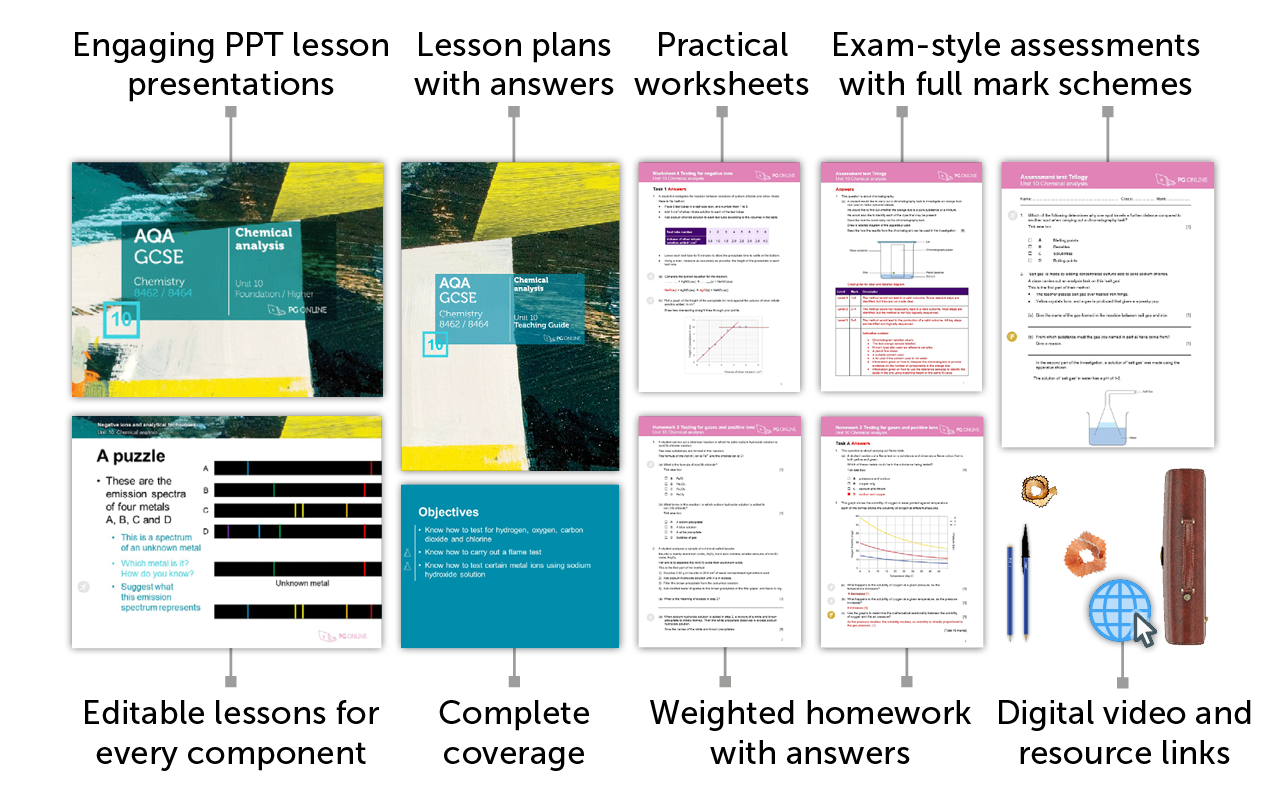 The GCSE units have been written to satisfy the specification for the separate Chemistry 8462 and Trilogy 8464 specification for the new AQA 9-1 GCSEs. Each unit contains:
PowerPoint slides for each topic
Detailed lesson plans
Learning objectives and outcomes
Worksheets and homework activities with answers
End-of-unit, exam-style assessment test with answers
Other material and links to online resources
What people say...
"

"

PG Online resources are very well planned and easy to use. Inspection copies are also useful as this enables me to make better choices with our limited budgets.

Gillian Broadhead. ACTL Creative and Technical Studies, Ridgewood High School
"

"

The units we have ordered are proving really useful and helpful with development of materials for new specs. The Maths for D&T have been particularly helpful.

Linda Hill. Design and Technology Teacher, Coundon Court
Inside the Unit...

Areas Covered

Topic 1 Calculating the rate of reaction
Topic 2 Factors affecting the rate of reaction
Topic 3 Collision theory
Topic 4 Catalysts
Download free topic above
Topic 5 Reversible reactions and equilibrium
Topic 6 Changing conditions - Concentration
Topic 7 Changing conditions - Temperature and pressure
Unit Assessment

There are 7 worksheets, 7 homework tasks, and an examination-style assessment test, each with answers included in this unit.

How to order

1. Add individual units to a draft order or download a blank order form below to complete manually

2. Using a draft order you can either:

Save your order online
(registration or log in required)
Email us your complete order
(registration or log in required)
Create a PDF quote
(to fax or email at a later date)

Download blank order form

Unit Pricing and Discounts

Each unit is individually priced for LIFE. Please view each unit for detail. 

Discounts are cumulative based on the total of units licenced to your department.

All prices subject to further discounts and VAT.

There are no annual renewal fees.

| | |
| --- | --- |
| 2-5 units | 10% discount |
| 6-9 units | 15% discount |
| 10+ units | 20% discount |