3
Inside the Unit...

Areas Covered
Topic 1 The three states of matter
Topic 2 Ionic bonding
Download sample topic above
Topic 3 Giant ionic structures
Topic 4 Covalent bonding
Topic 5 Simple covalent structures
Topic 6 Giant covalent structures
Topic 7 Metals and giant metallic bonding
Topic 8 Bulk and surface properties of matter *
Unit Assessment
There are 8 worksheets, 8 homework tasks, and an examination-style assessment test, each with answers included in this unit.
* These topics contain content suitable for separate Chemistry students only.
Summary
Each topic is designed for teaching over roughly 1-2 lessons.
This unit develops further ideas introduced at Key Stage 3 on the particulate nature of matter. An essential unit for students to master, the journey begins with the development of ideas relating to states of matter, then moves rapidly onto a study of the various key structural types. The ability for students to compartmentalise different substances into one of the main structural types is a key skill, and also highly useful, as it offers the ability to predict physical properties of materials. This is a beautifully illustrated unit consisting of highly interesting and engaging examples, including mention of useful and innovative modern-day materials. The unit concludes by delving into the fascinating world of metals and finishes with an exciting and highly contemporary focus on nanoparticles.
The complete series covers the AQA GCSE (9-1) Chemistry 8462 and combined science (Trilogy) 8464 specifications for Chemistry. Content relating to the separate Chemistry specification or Higher level material is indicated throughout for easy identification.
What's included in the toolkit?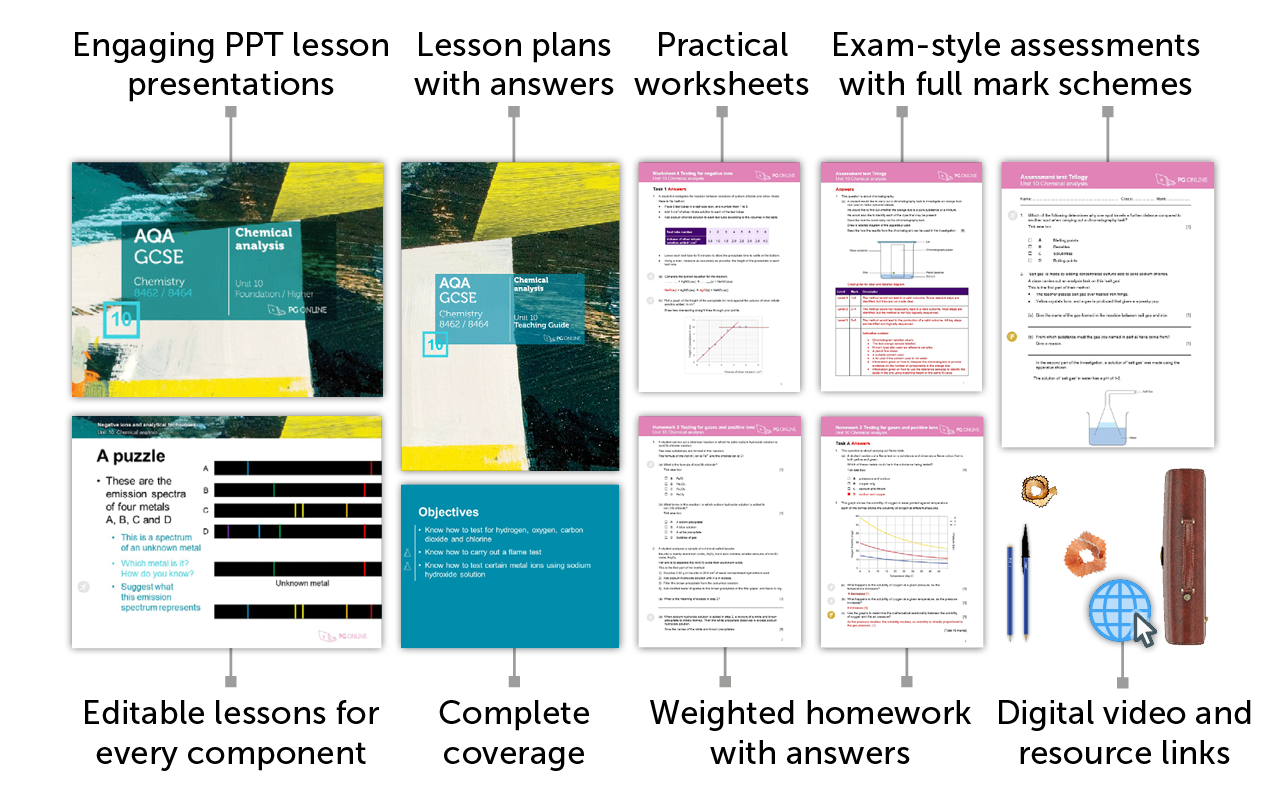 The GCSE units have been written to satisfy the specification for the separate Chemistry 8462 and Trilogy 8464 specification for the new AQA 9-1 GCSEs. Each unit contains:
PowerPoint slides for each topic
Detailed lesson plans
Learning objectives and outcomes
Worksheets and homework activities with answers
End-of-unit, exam-style assessment test with answers
Other material and links to online resources
What people say...
"

"

The content was outstanding at supporting Higher level students.

Bethan Atkins. Science teacher, Lutterworth College
"

"

The PowerPoints were thorough and detailed and helped my knowledge of the subject as a non specialist.

Thomas Fincham. Science teacher, Lutterworth College
Inside the Unit...

Areas Covered

Topic 1 The three states of matter
Topic 2 Ionic bonding
Download sample topic above
Topic 3 Giant ionic structures
Topic 4 Covalent bonding
Topic 5 Simple covalent structures
Topic 6 Giant covalent structures
Topic 7 Metals and giant metallic bonding
Topic 8 Bulk and surface properties of matter *
Unit Assessment

There are 8 worksheets, 8 homework tasks, and an examination-style assessment test, each with answers included in this unit.

* These topics contain content suitable for separate Chemistry students only.

How to order

1. Add individual units to a draft order or download a blank order form below to complete manually

2. Using a draft order you can either:

Save your order online
(registration or log in required)
Email us your complete order
(registration or log in required)
Create a PDF quote
(to fax or email at a later date)

Download blank order form

Unit Pricing and Discounts

Each unit is individually priced for LIFE. Please view each unit for detail. 

Discounts are cumulative based on the total of units licenced to your department.

All prices subject to further discounts and VAT.

There are no annual renewal fees.

| | |
| --- | --- |
| 2-5 units | 10% discount |
| 6-9 units | 15% discount |
| 10+ units | 20% discount |