4
Inside the Unit...

Areas Covered
Lesson 1 The options for start-up and small businesses
Lesson 2 Business location
Download sample lesson above
Lesson 3 The marketing mix
Lesson 4 Business plans
Lesson 5 Assessment
There are 4 worksheets, 4 homework tasks, and an examination-style assessment test, each with answers included in this unit.
Summary
This unit focusses on the Edexcel Business 1BS0 specification content covered by Topic 1.4 and explores the range of factors that impact on the success of a business. The initial topic builds upon the final topic of Unit 3, examining the concepts and implications of limited and unlimited liability for a start-up or established small business. The topic extends this by exploring the various forms and implications of business ownership and the relative advantages and disadvantages of each.
The subsequent topics in this unit explore other factors that impact upon the success of the business including location, and an introduction to the components of the marketing mix including an analysis of how the various aspects work together. The role and importance of a business plan is analysed, requiring students to synoptically draw upon learning from both this unit and prior units in the specification.
What's included in the toolkit?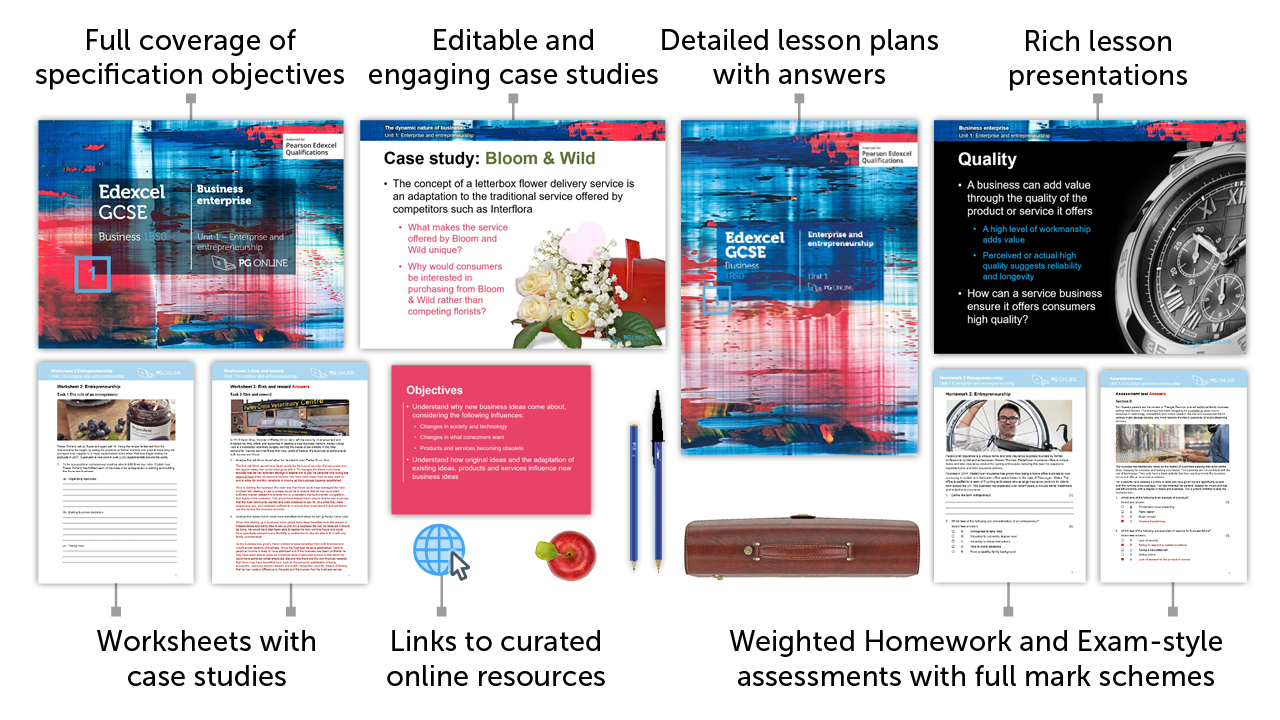 The GCSE units have been written to satisfy the specification for the Edexcel 1BS0 Business GCSE. Each unit contains:
PowerPoint slides for each topic
Detailed lesson plans
Learning objectives and outcomes
Worksheets and homework activities with answers
End-of-unit, exam-style assessment test with answers
Other material and links to online resources
What people say...
"

"

Thank you. We are very impressed with the quality of the courses you offer and will be purchasing more in the future.

Aaron Connor. Felpham CC
"

"

The key strengths of the materials are in their simplicity - you have the content pupils need to know, simply, attractively presented and then a well designed worksheet to test it. The worksheets look excellent and very effective as a tool to cement the learning.

Dr Bruce Geddes. Head of Curriculum, British School Kuala Lumpur
Inside the Unit...

Areas Covered

Lesson 1 The options for start-up and small businesses
Lesson 2 Business location
Download sample lesson above
Lesson 3 The marketing mix
Lesson 4 Business plans
Lesson 5 Assessment

There are 4 worksheets, 4 homework tasks, and an examination-style assessment test, each with answers included in this unit.

How to order

1. Add individual units to a draft order or download a blank order form below to complete manually

2. Using a draft order you can either:

Save your order online
(registration or log in required)
Email us your complete order
(registration or log in required)
Create a PDF
(to fax or email at a later date)

Download blank order form

Pricing and Discounts

Each unit is individually priced for LIFE. Please view each unit for detail. 

Discounts are cumulative based on the total of units licenced to your department.

All prices subject to further discounts and VAT.

There are no annual renewal fees.

| | |
| --- | --- |
| 2-5 units | 10% discount |
| 6+ units | 15% discount |