5
Inside the Unit...

Areas Covered
Topic 1 Business stakeholders
Download sample lesson above
Topic 2 Technology and business
Topic 3 Legislation and business
Topic 4 The economy and business
Topic 5 External influences
Assessment
There are 5 worksheets, 5 homework tasks, and an examination-style assessment test, each with answers included in this unit.
Summary
This unit covers the final unit of Theme 1 of the Edexcel GCSE (9-1) Business specification 1BS0 and introduces students to the range of factors that are external to the business, and often outside of its immediate control. The initial topic explores who business stakeholders are and their different objectives, which is then developed through a consideration of how stakeholders are affected by, and also impact upon business activity. Possible conflicts between stakeholder groups are then analysed, supported by application to relevant and contemporary case study examples.
Subsequent topics in the unit explore other external influences on business including technology, legislation, and the economy. Students are introduced to the impact that external factors can have on business and how businesses can respond to these influences to ensure success. The unit concludes with an assessment, testing students' knowledge and understanding of the unit content.
What's included in the toolkit?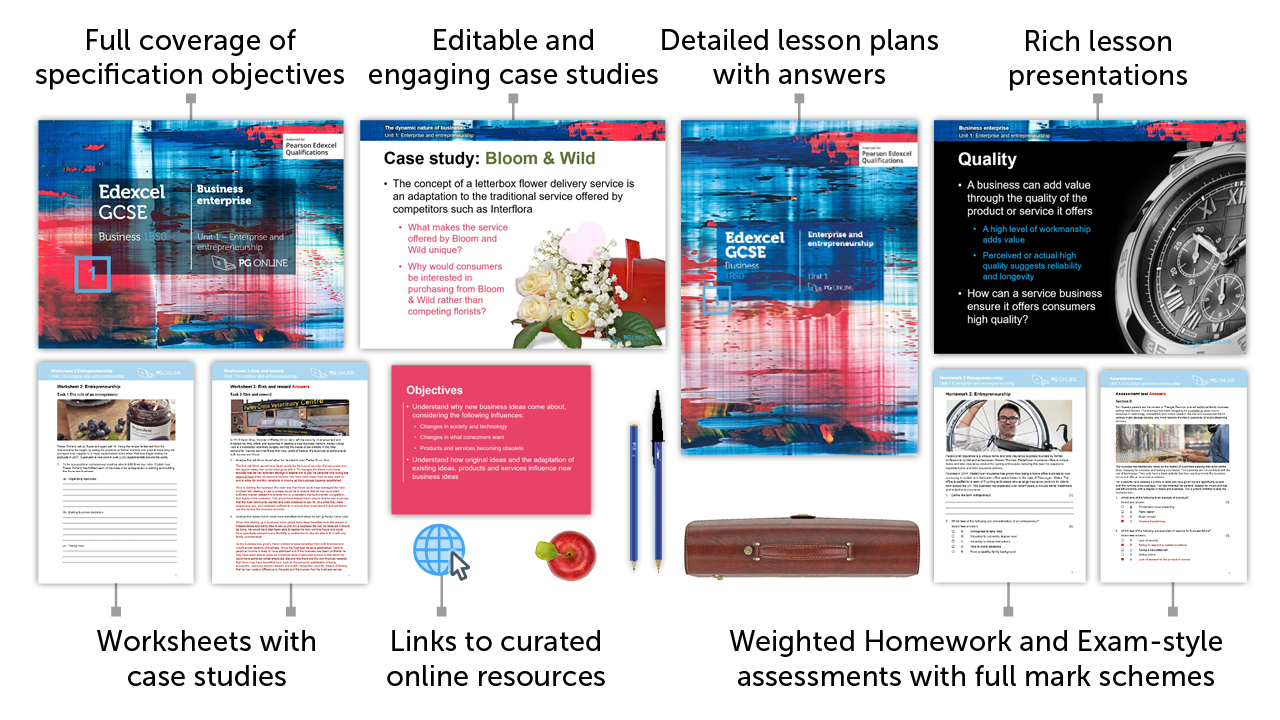 The GCSE units have been written to satisfy the specification for the Edexcel 1BS0 Business GCSE. Each unit contains:
PowerPoint slides for each topic
Detailed lesson plans
Learning objectives and outcomes
Worksheets and homework activities with answers
End-of-unit, exam-style assessment test with answers
Other material and links to online resources
What people say...
"

"

One of the major reasons I love PG Online resources is the fact that they are simple, editable powerpoint and Word documents, not tied down with non-editable pdfs.

David Price. KS3 Coordinator, Bishopshalt School
"

"

PG service is as slick as polished weasel grease!

Gavin Nuttall-Owen. Head of Computer Science, Bishop Fox's School
Inside the Unit...

Areas Covered

Topic 1 Business stakeholders
Download sample lesson above
Topic 2 Technology and business
Topic 3 Legislation and business
Topic 4 The economy and business
Topic 5 External influences
Assessment

There are 5 worksheets, 5 homework tasks, and an examination-style assessment test, each with answers included in this unit.

How to order

1. Add individual units to a draft order or download a blank order form below to complete manually

2. Using a draft order you can either:

Save your order online
(registration or log in required)
Email us your complete order
(registration or log in required)
Create a PDF
(to fax or email at a later date)

Download blank order form

Pricing and Discounts

Each unit is individually priced for LIFE. Please view each unit for detail. 

Discounts are cumulative based on the total of units licenced to your department.

All prices subject to further discounts and VAT.

There are no annual renewal fees.

| | |
| --- | --- |
| 2-5 units | 10% discount |
| 6+ units | 15% discount |