9
Inside the Unit...

Areas Covered
Lesson 1 Organisational structures
Download sample lesson above
Lesson 2 Effective recruitment
Lesson 3 Effective training and development
Lesson 4 Motivation
Lesson 5 Assessment
There are 4 worksheets, 4 homework tasks, and an examination-style assessment test, each with answers included in this unit.
Summary
This unit covers the final unit of Theme 2 of the Edexcel GCSE (9-1) Business specification 1BS0 and introduces students to the human resourcing decisions a business will need to make as it evolves and grows. Various organisational structures are examined, along with the importance of effective communication and different ways of working, including the impact of technology.
The final topics covered by the unit include recruitment, and subsequent training and development. Key job key roles and responsibilities are investigated along with a focus on the recruitment process. Methods of training and developing staff are explored leading into the final topic on the importance of motivation within the workplace. This includes various financial and non-financial methods of motivating staff.
The unit concludes with an assessment and tests students' knowledge and understanding of human resource management, with questions similar to those found on the GCSE exam paper.
What's included in the toolkit?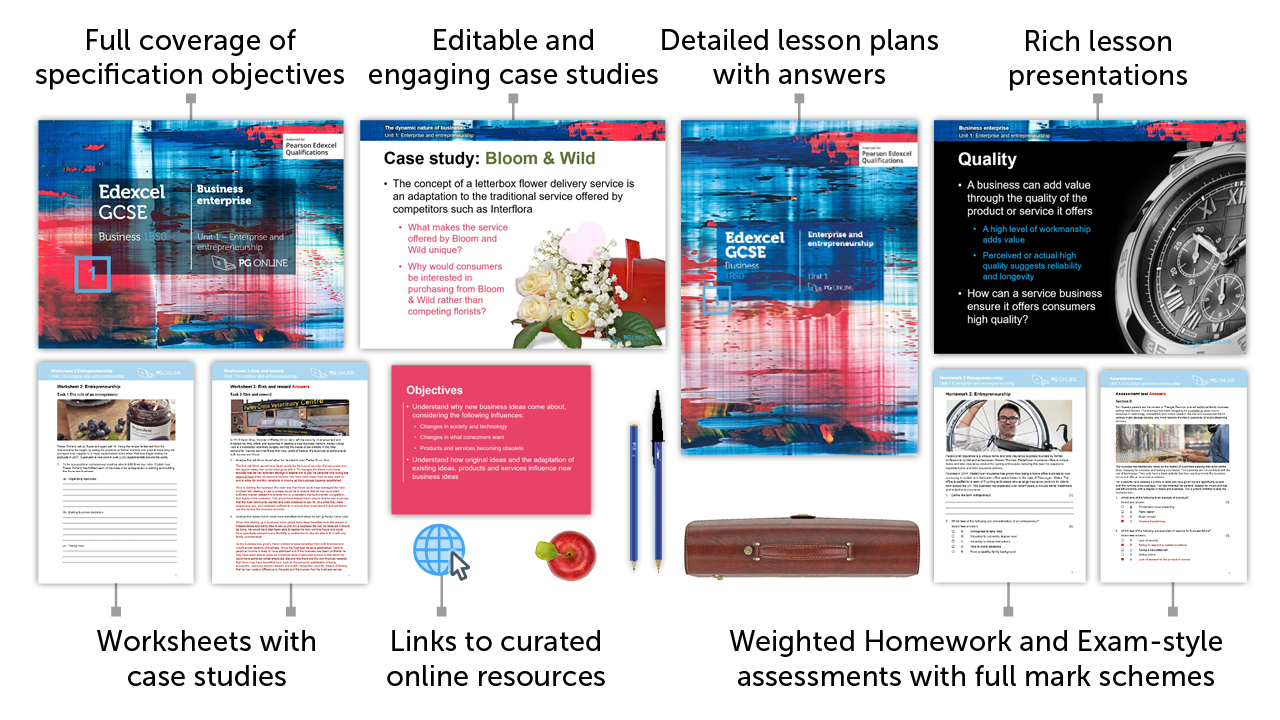 The GCSE units have been written to satisfy the specification for the Edexcel 1BS0 Business GCSE. Each unit contains:
PowerPoint slides for each topic
Detailed lesson plans
Learning objectives and outcomes
Worksheets and homework activities with answers
End-of-unit, exam-style assessment test with answers
Other material and links to online resources
What people say...
"

"

We just wanted to say a massive thank you to you and your team for the units we purchased. They have made such a difference to the staff. The teacher now has a work - life balance and can come into school, and leave at a normal time. He now has more time for revision sessions during the busy exam period, has a proper break during the day and the students are more engaged with their learning.

Joanne Vance. Assistant Headteacher, Hollis Academy
"

"

Very helpful assessments, easy to assess and the resources are perfect for teaching. Thanks.

Seeven Soobaroyen. Springwood High School
Inside the Unit...

Areas Covered

Lesson 1 Organisational structures
Download sample lesson above
Lesson 2 Effective recruitment
Lesson 3 Effective training and development
Lesson 4 Motivation
Lesson 5 Assessment

There are 4 worksheets, 4 homework tasks, and an examination-style assessment test, each with answers included in this unit.

How to order

1. Add individual units to a draft order or download a blank order form below to complete manually

2. Using a draft order you can either:

Save your order online
(registration or log in required)
Email us your complete order
(registration or log in required)
Create a PDF
(to fax or email at a later date)

Download blank order form

Pricing and Discounts

Each unit is individually priced for LIFE. Please view each unit for detail. 

Discounts are cumulative based on the total of units licenced to your department.

All prices subject to further discounts and VAT.

There are no annual renewal fees.

| | |
| --- | --- |
| 2-5 units | 10% discount |
| 6+ units | 15% discount |