8
Inside the Unit...

Areas Covered
Lesson 1 Business operations
Download sample lesson above
Lesson 2 Working with suppliers
Lesson 3 Managing quality
Lesson 4 The sales process
Lesson 5 Business calculations
Lesson 6 Understanding business performance
Lesson 7 Assessment
There are 6 worksheets, 6 homework tasks, and an examination-style assessment test, each with answers included in this unit.
Summary
This integrated unit covers Topics 2.3 and 2.4 of the Edexcel 1BS0 Business specification content. The unit contains six thorough and engaging topics along with an assessment test that investigates and explores factors relating to making operational and financial business decisions.
The initial topics within the unit focus on issues relating to making operational decisions including an examination of the various production processes, and the impact of technology on production. The concepts of stock management and the role of procurement are covered, along with the principles of managing quality. The sales process is explored and the importance of providing good customer service analysed.
The final topics in the unit focus on the tools a business has at its disposal to support financial decision making. These topics require students to apply some basic numeracy skills in order to explore the concept, calculate and interpret gross and net profit, profit margins, and average rate of return. To consolidate learning, the use and interpretation of quantitative business data is analysed, and its use and limitations considered.
What's included in the toolkit?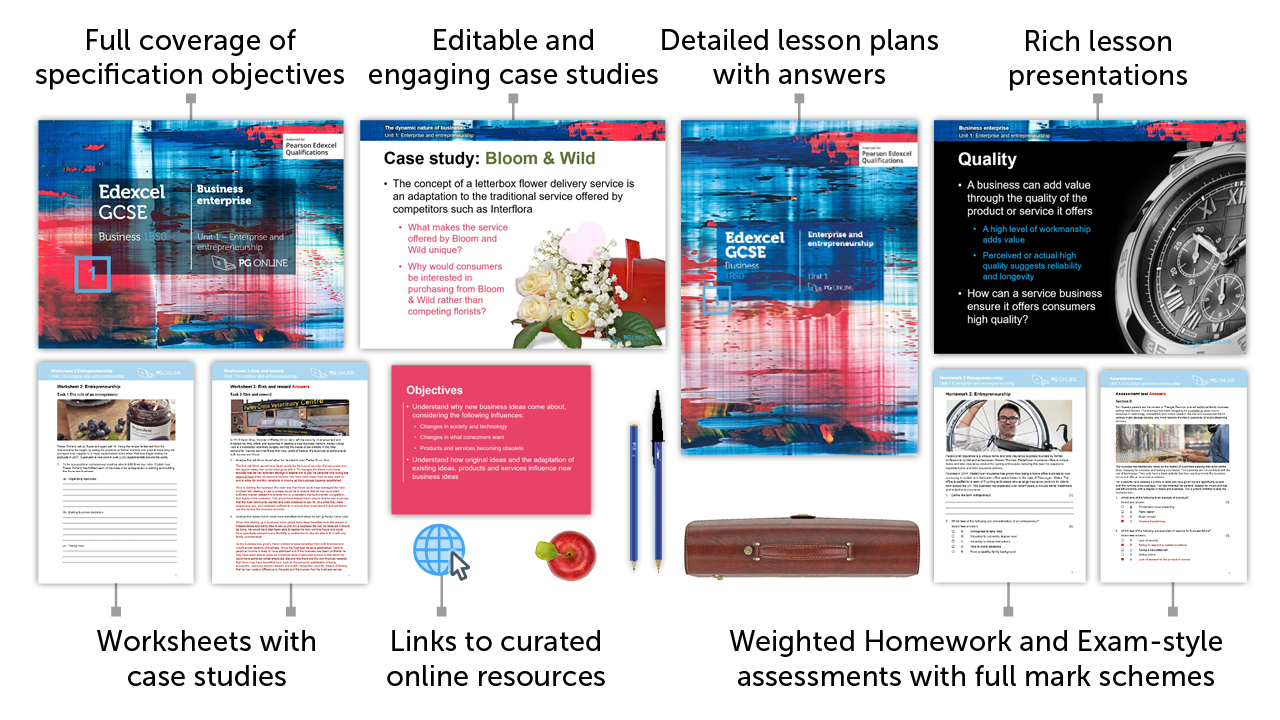 The GCSE units have been written to satisfy the specification for the Edexcel 1BS0 Business GCSE. Each unit contains:
PowerPoint slides for each topic
Detailed lesson plans
Learning objectives and outcomes
Worksheets and homework activities with answers
End-of-unit, exam-style assessment test with answers
Other material and links to online resources
What people say...
"

"

We have been using PG Online KS3 materials for well over a year now. PG Online materials have significantly reduced our worries, because the units are extremely well organised and make it much easier to teach the new curriculum.

Suki Chima. Computer Science Teacher, Sion-Manning RC Girls School
"

"

PG Online resources have proved very useful in meeting our curriculum planning needs for teaching and learning. In the ever changing world of Computing, your resources have been a life saver.

Henry Ilonah. Head of Computing, The Bulmershe School
Inside the Unit...

Areas Covered

Lesson 1 Business operations
Download sample lesson above
Lesson 2 Working with suppliers
Lesson 3 Managing quality
Lesson 4 The sales process
Lesson 5 Business calculations
Lesson 6 Understanding business performance
Lesson 7 Assessment

There are 6 worksheets, 6 homework tasks, and an examination-style assessment test, each with answers included in this unit.

How to order

1. Add individual units to a draft order or download a blank order form below to complete manually

2. Using a draft order you can either:

Save your order online
(registration or log in required)
Email us your complete order
(registration or log in required)
Create a PDF
(to fax or email at a later date)

Download blank order form

Pricing and Discounts

Each unit is individually priced for LIFE. Please view each unit for detail. 

Discounts are cumulative based on the total of units licenced to your department.

All prices subject to further discounts and VAT.

There are no annual renewal fees.

| | |
| --- | --- |
| 2-5 units | 10% discount |
| 6+ units | 15% discount |