4
Inside the Unit...

Areas Covered
This unit consists of six topics, each more substantial than a single lesson and intended to be covered over the course of a week.
Topic 1: Compression, encryption and hashing
Topic 2: Database concepts
Download sample lesson above
Topic 3: Relational databases and normalisation
Topic 4: Introduction to SQL

Topic 5: Defining and updating tables using SQL
Topic 6: Transaction processing
End of unit assessment
There are six worksheets, six homework tasks, and an examination-style assessment test, each with answers included in this unit.
Summary
This unit covers Sections 1.3.1 and 1.3.2 of the 2015 H446 specification. The first lesson covers the topics of compression and encryption. This is followed by four lessons on databases and SQL, with a final lesson on transaction processing. Each of the six topics may be spread over more than one lesson, especially if time is spent in the lessons going over homework tasks.
What's included in the toolkit?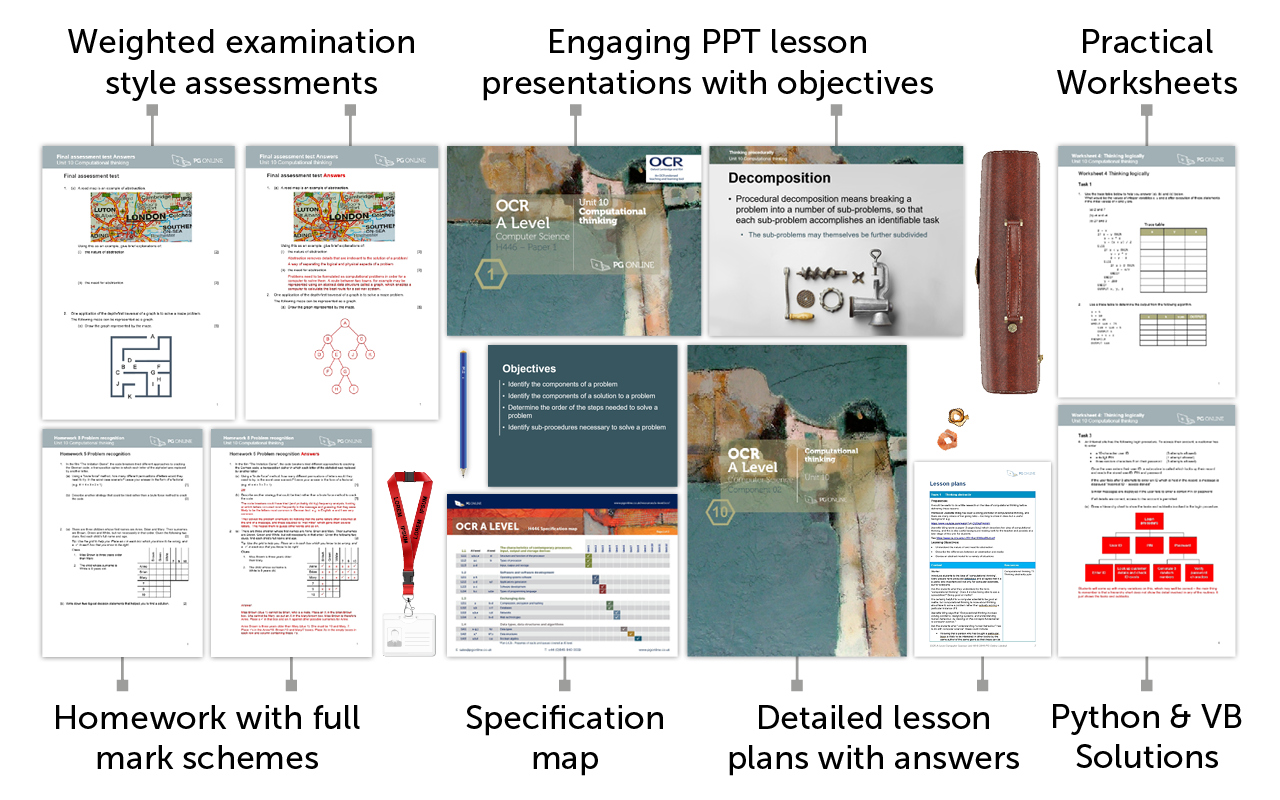 The A Level units have been written to satisfy the specification for Component 1 and Component 2 of the OCR H046/H446 Computer Science AS/A Level. Each unit contains:
PowerPoint slides for each topic
Detailed lesson plans
Learning objectives and outcomes
Worksheets and homework activities with answers
End-of-unit, exam-style assessment test with answers
Other material and links to online resources
What people say...
"

"

The key strengths of the materials are in their simplicity - you have the content pupils need to know, simply, attractively presented and then a well designed worksheet to test it. The worksheets look excellent and very effective as a tool to cement the learning.

Dr Bruce Geddes. Head of Curriculum, British School Kuala Lumpur
"

"

I wanted to say how much I have enjoyed using your resources with my A-Level groups this term. The topics are well explained and the resources encourage students to carry out independent research.

David Stephenson. Head of Computing and ICT, Highdown School & Sixth Form Centre
Relevant Textbooks
Inside the Unit...

Areas Covered

This unit consists of six topics, each more substantial than a single lesson and intended to be covered over the course of a week.

Topic 1: Compression, encryption and hashing
Topic 2: Database concepts
Download sample lesson above
Topic 3: Relational databases and normalisation
Topic 4: Introduction to SQL

Topic 5: Defining and updating tables using SQL
Topic 6: Transaction processing
End of unit assessment

There are six worksheets, six homework tasks, and an examination-style assessment test, each with answers included in this unit.

How to order

1. Add individual units to a draft order or download a blank order form below to complete manually

2. Using a draft order you can either:

Save your order online
(registration or log in required)
Email us your complete order
(registration or log in required)
Create a PDF
(to fax or email at a later date)

Download blank order form

Pricing and Discounts

Each unit is individually priced for LIFE. Please view each unit for detail. 

Discounts are cumulative based on the total of units licenced to your department.

All prices subject to further discounts and VAT.

There are no annual renewal fees.

| | |
| --- | --- |
| 2-5 units | 10% discount |
| 6-11 units | 15% discount |
| 12+ units | 20% discount |