6
Inside the Unit...

Areas Covered
This unit consists of five topics, each more substantial than a single lesson and intended to be covered over the course of a week.
Topic 1: Data types, binary and hexadecimal
Topic 2: ASCII and Unicode
Topic 3: Binary arithmetic
Topic 4: Floating point arithmetic
Download free sample above
Topic 5: Bitwise manipulation and masks
End of unit assessment
There are five worksheets, five homework tasks, and an examination-style assessment test, each with answers included in this unit.
Summary
This unit covers the representation of data in Section 1.4.1 of the 2015 H446 specification. Five topics in this unit cover data representation of numbers and text, binary arithmetic using both fixed point and normalised floating point numbers, bitwise manipulation and masks. Each of the five topics may be spread over more than one lesson, especially if time is spent in the lessons going over homework tasks.
What's included in the toolkit?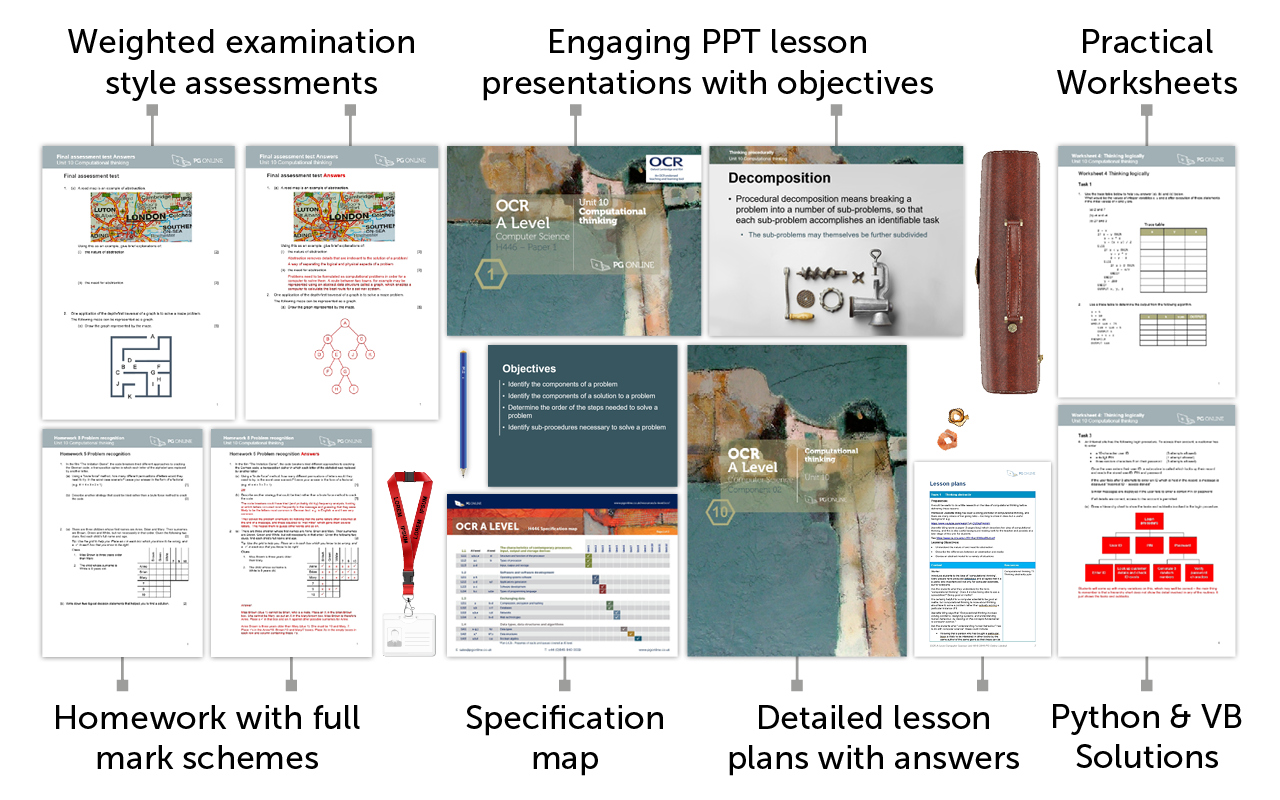 The A Level units have been written to satisfy the specification for Component 1 and Component 2 of the OCR H046/H446 Computer Science AS/A Level. Each unit contains:
PowerPoint slides for each topic
Detailed lesson plans
Learning objectives and outcomes
Worksheets and homework activities with answers
End-of-unit, exam-style assessment test with answers
Other material and links to online resources
What people say...
"

"

Received a copy of the AS textbook last week. I had it with me at the CAS conference (light reading on the train), several others saw it and we all thought it looks excellent. Thank you.

Laura Greene. Teacher of Computing, Sweyne Park School
"

"

PG Online resources are very well planned and easy to use. Inspection copies are also useful as this enables me to make better choices with our limited budgets.

Gillian Broadhead. ACTL Creative and Technical Studies, Ridgewood High School
Relevant Textbooks
Inside the Unit...

Areas Covered

This unit consists of five topics, each more substantial than a single lesson and intended to be covered over the course of a week.

Topic 1: Data types, binary and hexadecimal
Topic 2: ASCII and Unicode
Topic 3: Binary arithmetic
Topic 4: Floating point arithmetic
Download free sample above
Topic 5: Bitwise manipulation and masks
End of unit assessment

There are five worksheets, five homework tasks, and an examination-style assessment test, each with answers included in this unit.

How to order

1. Add individual units to a draft order or download a blank order form below to complete manually

2. Using a draft order you can either:

Save your order online
(registration or log in required)
Email us your complete order
(registration or log in required)
Create a PDF
(to fax or email at a later date)

Download blank order form

Pricing and Discounts

Each unit is individually priced for LIFE. Please view each unit for detail. 

Discounts are cumulative based on the total of units licenced to your department.

All prices subject to further discounts and VAT.

There are no annual renewal fees.

| | |
| --- | --- |
| 2-5 units | 10% discount |
| 6-11 units | 15% discount |
| 12+ units | 20% discount |