5
Inside the Unit...

Areas Covered
This unit consists of seven topics, each more substantial than a single lesson and intended to be covered over the course of a week.
Topic 1: Structure of the Internet
Topic 2: Internet communication
Topic 3: Network security and threats
Download sample topic below
Topic 4: HTML and CSS

Topic 5: Web forms and JavaScript
Topic 6: Search engine indexing
Topic 7: Client-server and peer-to-peer
End of unit assessment
There are seven worksheets, seven homework tasks, and an examination-style assessment test, each with answers included in this unit.
Summary
This unit is subdivided into seven topics (plus a test), each with roughly 2-3 hours of lesson material. It is a theoretical unit covering the structure of the Internet including DNS and IP addressing. Local Area Networks are also covered in the first topic. The second topic covers the role of packet switching and routers in the TCP/IP protocol stack. This is followed by a discussing of network threats and various methods of prevention. HTML and CSS is covered with practical examples in Topic 4, with web forms and JavaScript used to create more examples in Topic 5. Search engine indexing and Google's PageRank algorithm are comprehensively covered alongside client- and server-side processing in the final topics.
What's included in the toolkit?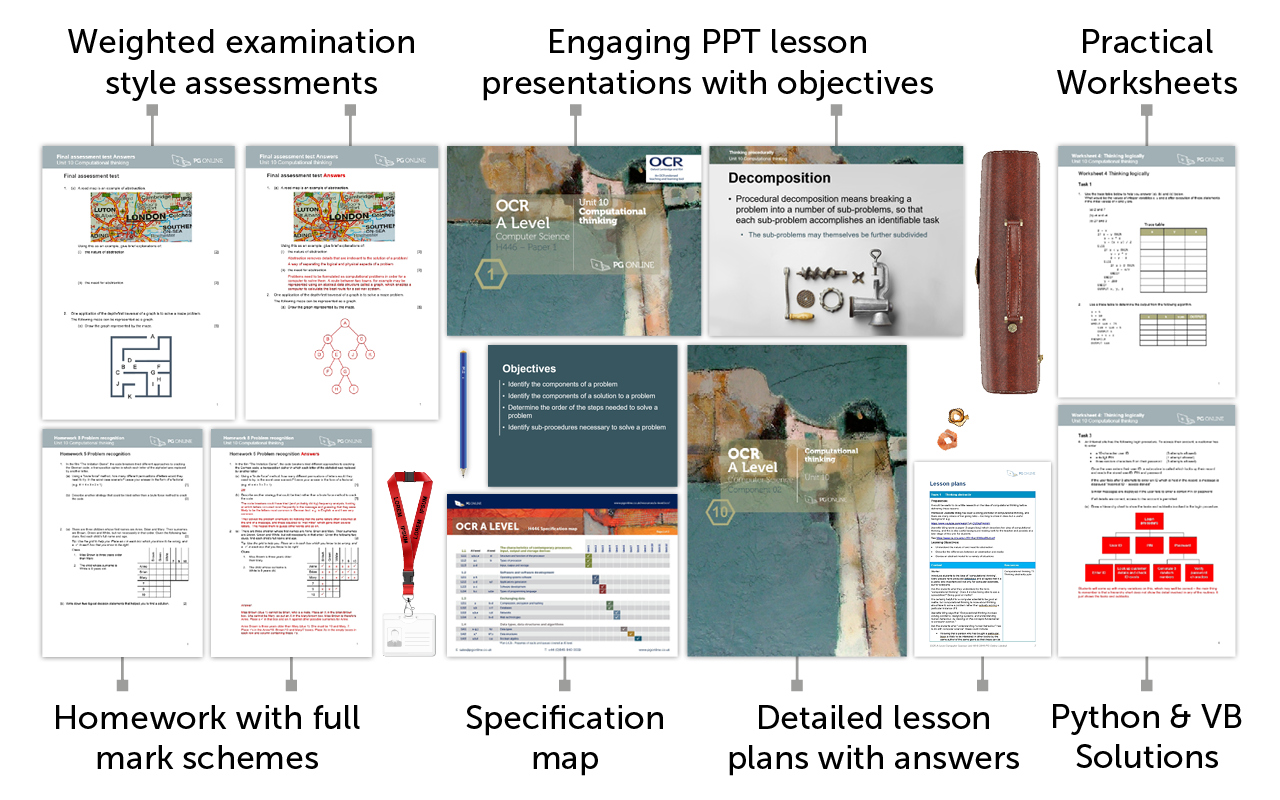 The A Level units have been written to satisfy the specification for Component 1 and Component 2 of the OCR H046/H446 Computer Science AS/A Level. Each unit contains:
PowerPoint slides for each topic
Detailed lesson plans
Learning objectives and outcomes
Worksheets and homework activities with answers
HTML, CSS and JavaScript files to accompany examples
End-of-unit, exam-style assessment test with answers
Other material and links to online resources
What people say...
"

"

Absolutely delighted with your service and the materials - well done PG Online!

Dorothy Love. Lord Lawson of Beamish Academy
"

"

Your customer service is excellent. I now understand why PG Online is so highly recommended by colleagues in other schools.

Naushin Mirza. Deputy Head of Computing, St John Payne Catholic School
Relevant Textbooks
Inside the Unit...

Areas Covered

This unit consists of seven topics, each more substantial than a single lesson and intended to be covered over the course of a week.

Topic 1: Structure of the Internet
Topic 2: Internet communication
Topic 3: Network security and threats
Download sample topic below
Topic 4: HTML and CSS

Topic 5: Web forms and JavaScript
Topic 6: Search engine indexing
Topic 7: Client-server and peer-to-peer
End of unit assessment

There are seven worksheets, seven homework tasks, and an examination-style assessment test, each with answers included in this unit.

How to order

1. Add individual units to a draft order or download a blank order form below to complete manually

2. Using a draft order you can either:

Save your order online
(registration or log in required)
Email us your complete order
(registration or log in required)
Create a PDF
(to fax or email at a later date)

Download blank order form

Pricing and Discounts

Lifetime site licence
GCSE units are individually priced
Discount for 2-5 units 10%
Discount for 6-12 units 15%
Discount for 12+ units 20%
Budget plans are available. There are no annual renewal fees.