7
Inside the Unit...

Areas Covered
This unit consists of seven topics, each more substantial than a single lesson and intended to be covered over the course of a week.
Topic 1: Queues
Download free sample above
Topic 2: Lists
Topic 3: Stacks
Topic 4: Hash tables and dictionaries
Topic 5: Graphs
Topic 6: Trees
Topic 7: Vectors
End of unit assessment
There are worksheets, homework tasks, and an assessment test, each with answers included in this unit.
Summary
The unit is subdivided into seven topics plus a test. It covers all of Section 4.2 of the AQA A-Level specification 7517. (Arrays, records and files are covered in AS Unit 1.) The unit gives practical and worked examples of each of the different abstract data structures including queues, stacks, lists, graphs, trees, hash tables and dictionaries. The function and practical application of each data type is discussed, with pseudocode and coded program solutions for some algorithms in VB or Python. Vectors and dot products and their application are covered in a final topic before a comprehensive examination-style assessment of the understanding across the whole unit.
What's included in the toolkit?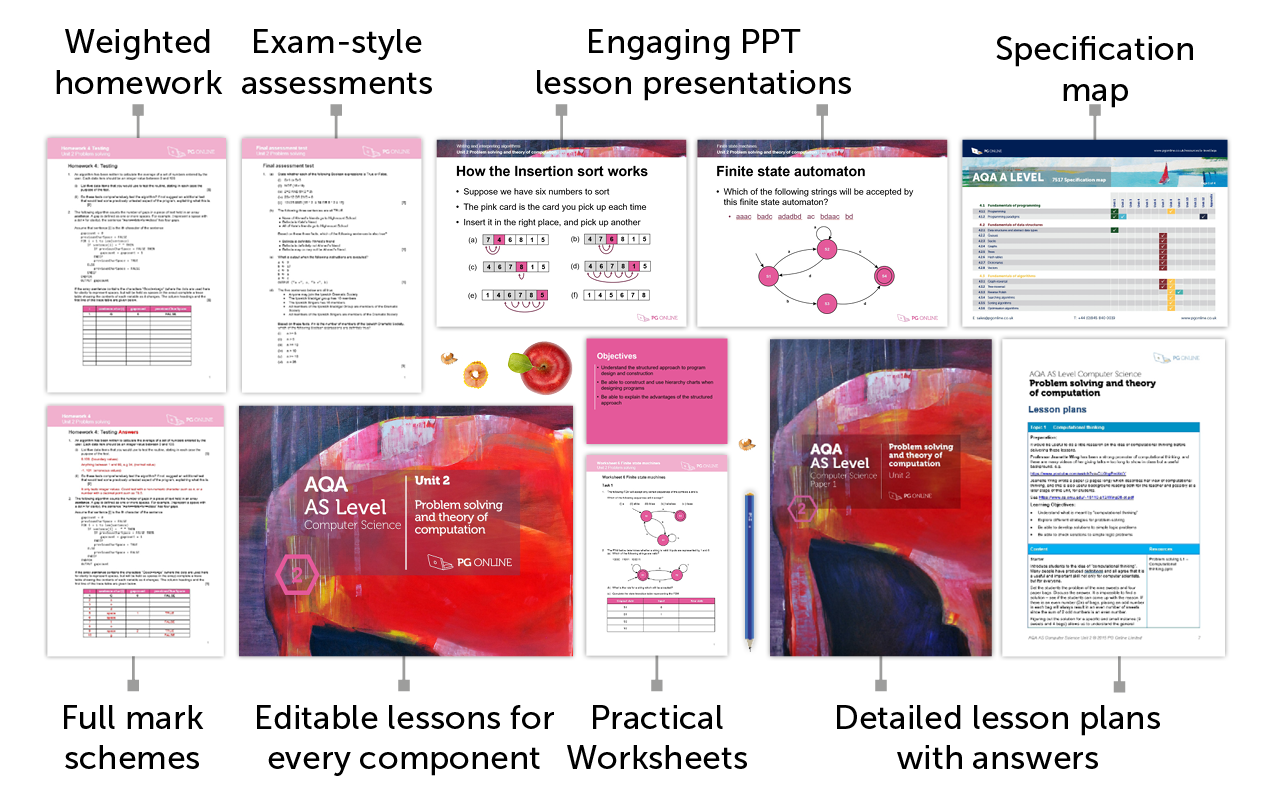 The A Level units have been written to satisfy the specification for Paper 1 and Paper 2 of the AQA 7517 Computer Science AS Level. Each unit contains:
PowerPoint slides for each topic
Detailed lesson plans
Learning objectives and outcomes
Worksheets and homework activities with answers
End-of-unit, exam-style assessment test with answers
Other material and links to online resources
What people say...
"

"

We're really getting on well with the book. The resource packs are fabulous.

Richard Martin. Subject Leader, City of Norwich School
"

"

Your resources are head and shoulders above the rest.

Kieren Reynolds. CAS Master teacher and teacher, Henry Beaufort School
Relevant Textbooks
Inside the Unit...

Areas Covered

This unit consists of seven topics, each more substantial than a single lesson and intended to be covered over the course of a week.

Topic 1: Queues
Download free sample above
Topic 2: Lists
Topic 3: Stacks
Topic 4: Hash tables and dictionaries
Topic 5: Graphs
Topic 6: Trees
Topic 7: Vectors
End of unit assessment

There are worksheets, homework tasks, and an assessment test, each with answers included in this unit.

How to order

1. Add individual units to a draft order or download a blank order form below to complete manually

2. Using a draft order you can either:

Save your order online
(registration or log in required)
Email us your complete order
(registration or log in required)
Create a PDF
(to fax or email at a later date)

Download blank order form

Pricing and Discounts

Each unit is individually priced for LIFE. Please view each unit for detail. 

Discounts are cumulative based on the total of units licenced to your department.

All prices subject to further discounts and VAT.

There are no annual renewal fees.

| | |
| --- | --- |
| 2-5 units | 10% discount |
| 6-11 units | 15% discount |
| 12+ units | 20% discount |